Tillsammans mot 37 miljoner ton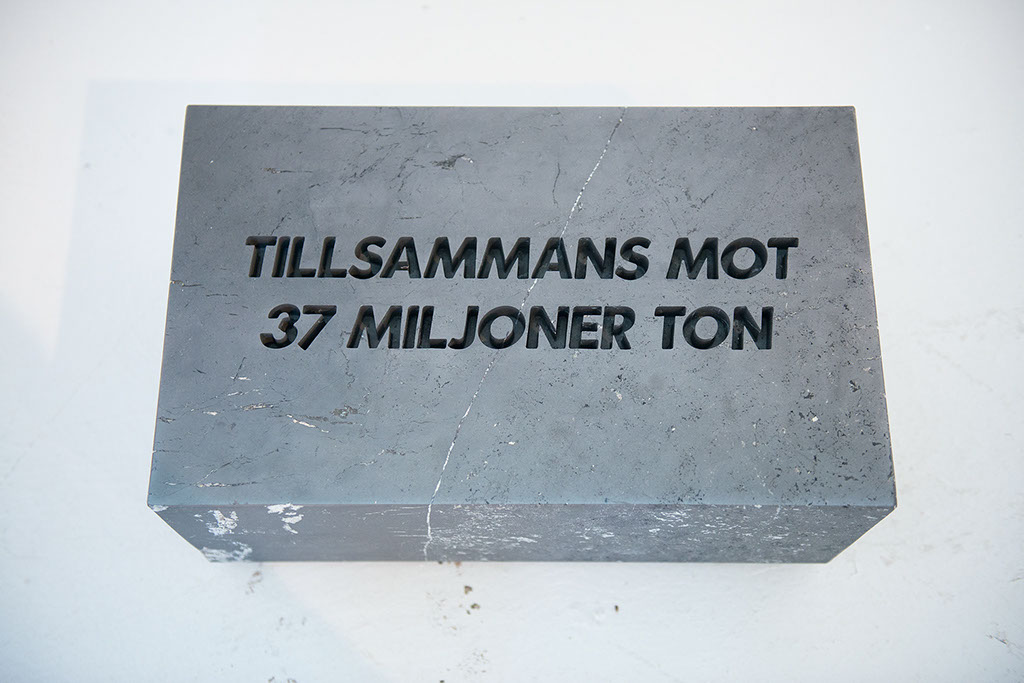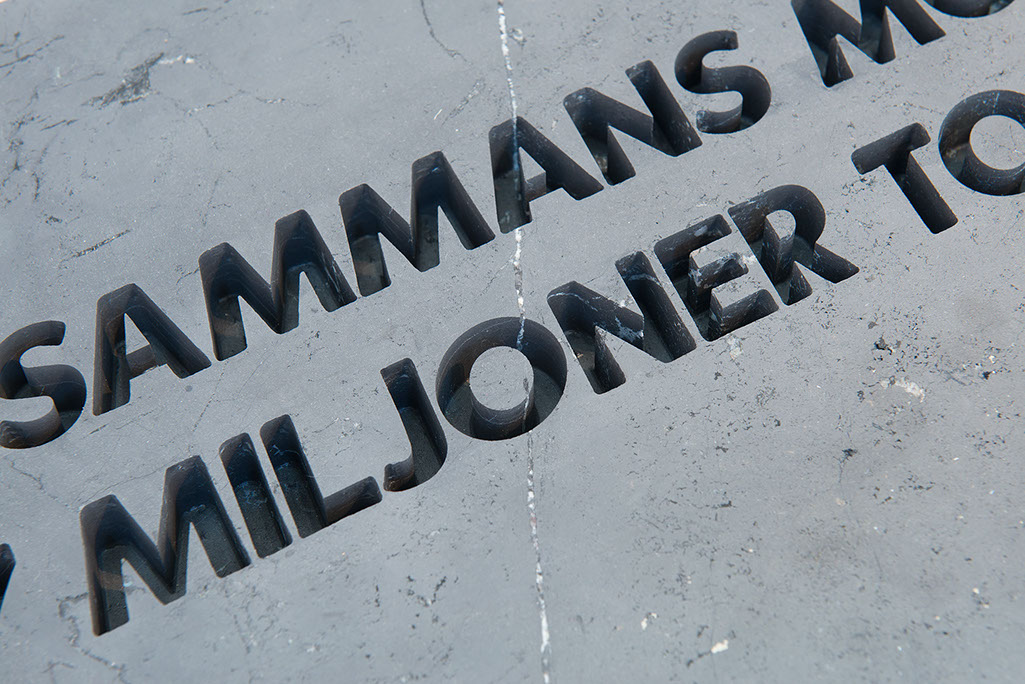 "Tillsammans mot 37 miljoner ton" ("Together towards 37 million tonnes") (2016)
Magnetite (iron ore) sculpture with CNC milled and hand carved text. Text from inauguration slogan of a new production level at 1365 m below Kiruna. 30 x 50 x 20 cm.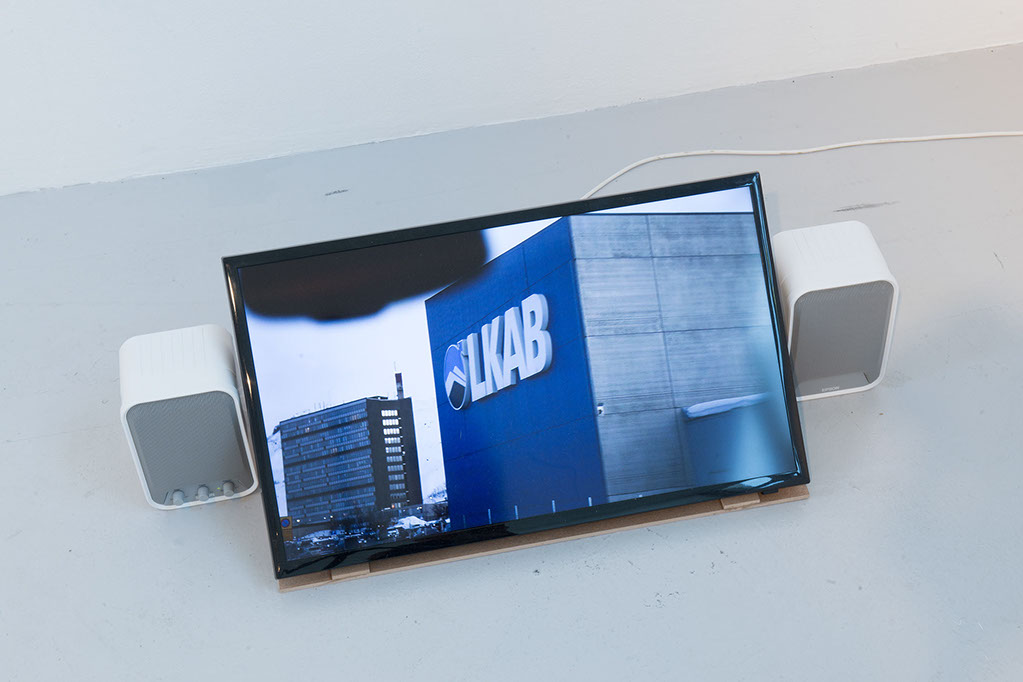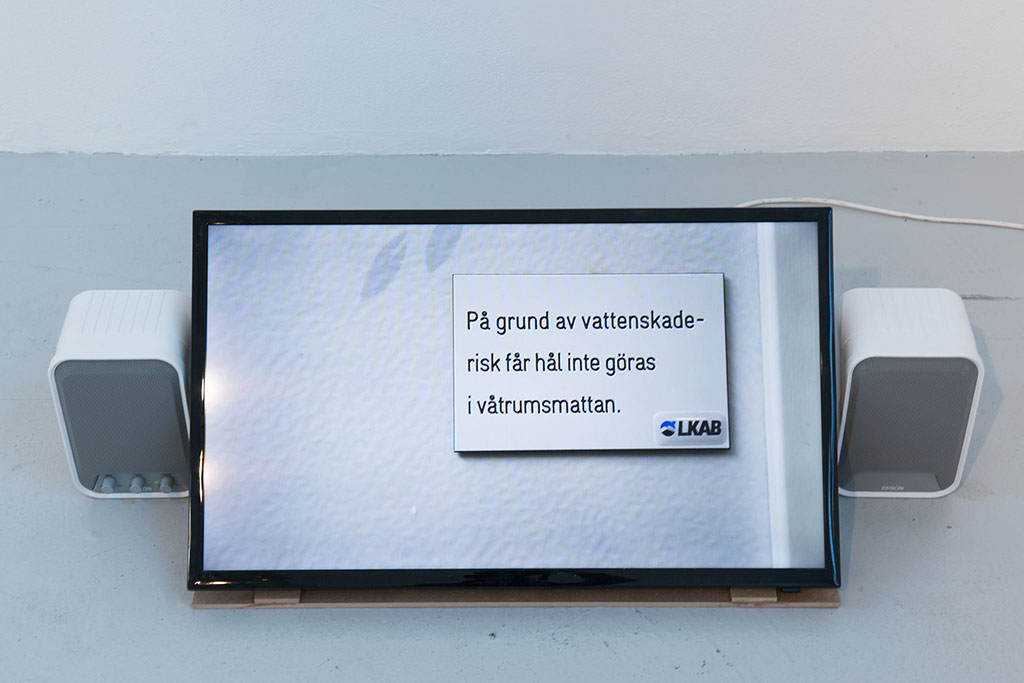 "Safe-in Safe-out" (2016)
Video, HD. Title from corporate newsletter. 17 min 44 sec.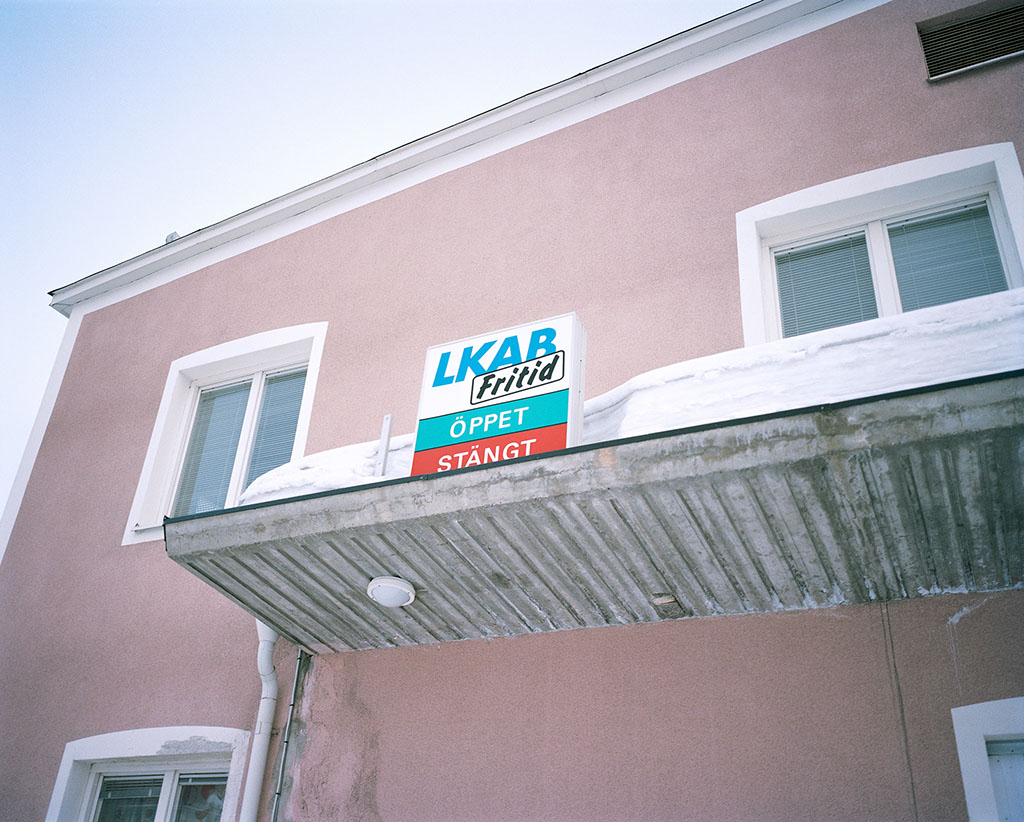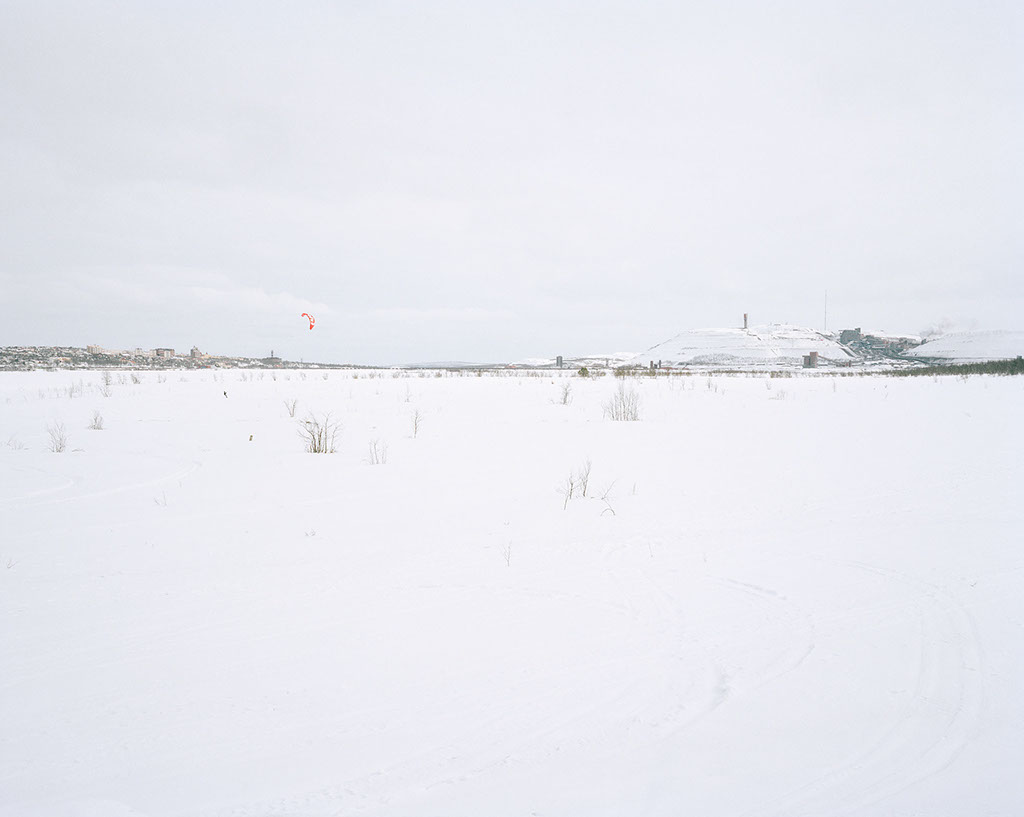 "Utvecklingen ska gå hand i hand med avvecklingen" ("Development shall go hand in hand with withdrawal") (2016)
Series of photographs from medium format film. Title from publication from municipality on Kiruna's urban transformation. Inkjet print, framed, 107 x 130 cm.
"Soft_rock.OTF" (2016)
Typeface created by interpretation of mining company LKAB's redesigned brand. OpenType font file, 23 kB.
"Tillsammans mot 37 miljoner ton" handlar om gruvsamhället Kiruna och en unik symbios mellan ett företag och ett samhälle. Kiruna är en av de få småorterna i landet som det anses gå bra för, den avbefolkas inte för tillfället och industrin och arbetstillfällena är relativt stabila, till skillnad från till exempel regionen jag själv är från i Skånes inland som dras med avbefolkning, nedläggning av industrier och låga skolbetyg. Jag berörs av relationen mellan marknaden och samhället i småorten, där inte sällan en enda industri försörjer ett helt samhälle med arbete, sin identitet och kultur. Där utvecklingen för tillfället går framåt på en ort och bakåt på en annan är jag snarast intresserad av de grundläggande premisserna för invånaren i ett sådant samhälle. LKAB syns och känns av överallt i Kiruna. Samtliga titlar kommer från offentlig kommunikation kopplat till gruvnäringen, där gruvbolagets kommunikation de senaste åren varit präglad av en strävan att visa upp mjuka värden i kontrast till den annars tunga råvaruindustrin, vilket syns i användandet av ord som "safe" och "tillsammans" och den nya rundare varianten på den tidigare kantiga logotypen.
"Tillsammans mot 37 miljoner ton" ("Together towards 37 million tonnes") is about the mining town Kiruna and the unique symbiosis between a company and a community. Kiruna is one of few small towns in Sweden that is considered doing well. It is not de-populating and the industry and jobs are fairly stable, in contrast to the region in Skåne where I am from that is troubled with de-population, shutting of industries and low school grades. I am concerned with the relation between the market and the community in the small town, where not rarely a single industry provides work to the town as well as its identity and culture. Where there is progress in one town and there is decline in another I am more concerned with the fundamental conditions for the inhabitant in such towns. LKAB is seen and felt everywhere in Kiruna. All titles are from public commwwunication related to the mining business, where the company's communication the last years have been characterised by a strive to display soft values in contrast to the otherwise heavy natural resources industry, which is seen in the use of words such as "safe" and "tillsammans" ("together") and the new rounder version of the previously blocky logotype.
Som framgått av den här sammanfattningen ger utredningen inte svar på alla frågor. Det är å andra sidan kanske inte speciellt överraskande.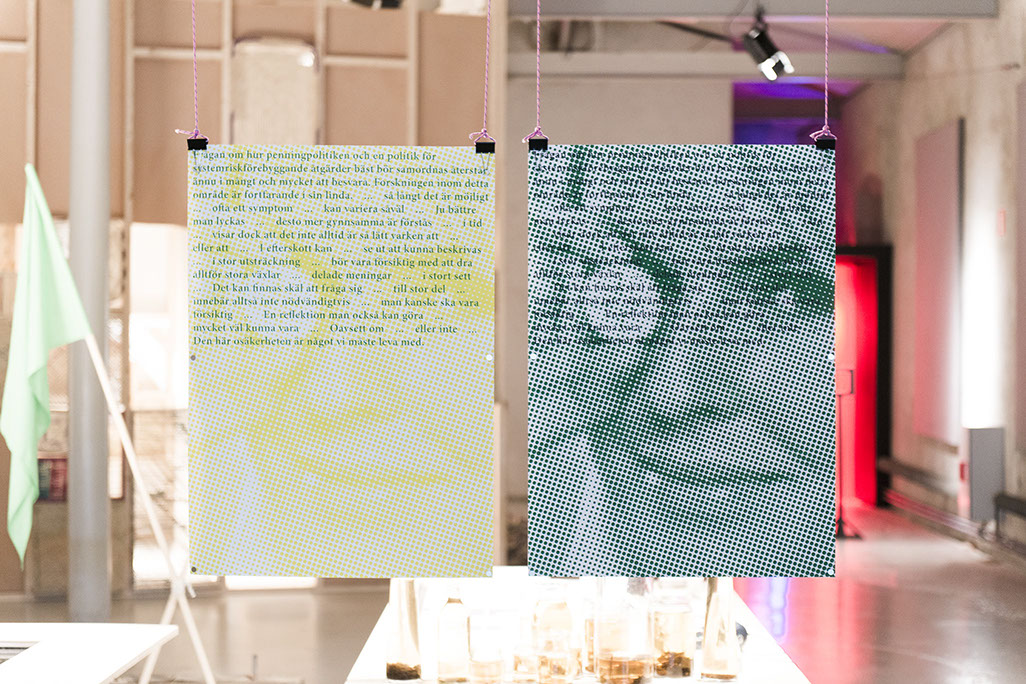 "Som framgått av den här sammanfattningen ger utredningen inte svar på alla frågor. Det är å andra sidan kanske inte speciellt överraskande." ("As shown in this summary the inquiry does not answer all questions. On the other hand that might not be very surprising.") (2015)
Material: text source: "Riksbankens utredning om risker på den svenska bostadsmarknaden" (2011). Advertisement image: Notar och Plus Bolån, "Bli en vinnare på bolånemarknaden". Screen print in varying colours. Scandia 2000 smooth white 240g, 64 x 90 cm.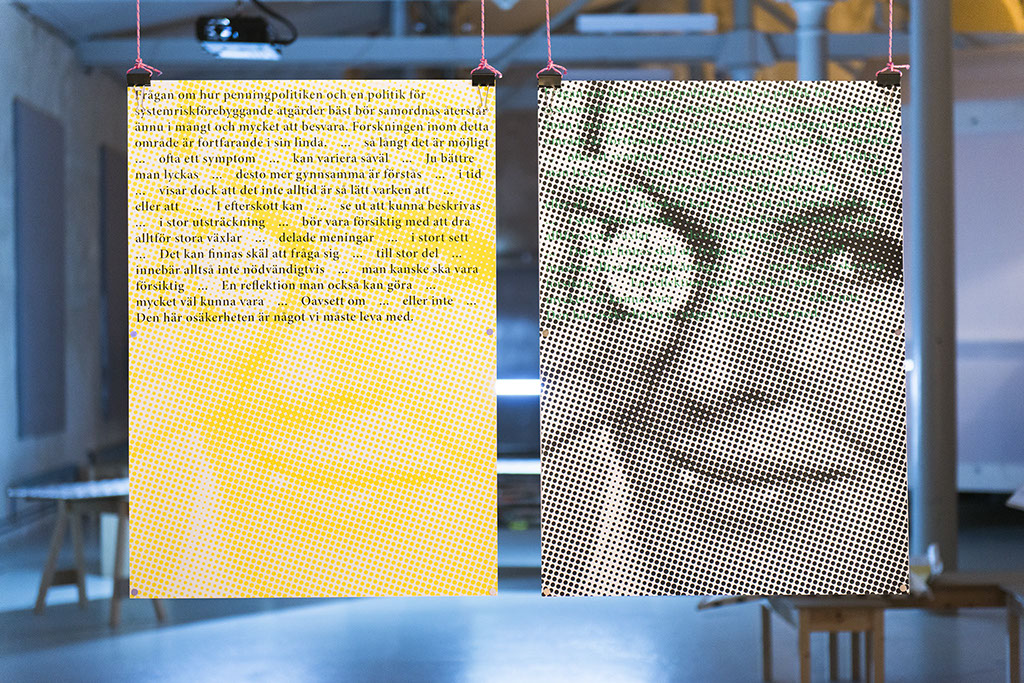 Carl-Oskar Linné's series of prints is a comment on the contrast between profit maximisation behaviour and the handling of financial systemic risks. The source report from Riksbanken successfully identifies risk factors that might lead or have lead to a housing market bubble and the financial channels carrying those risks; the banks, the state and the loan takers. Despite a dangerous situation, in particular for loan takers, the report weakens the message through many hedging terms. These function as noise or mask thereby distracting from the fact that the report concludes that conclusions are impossible to reach and that these systemic risks are something we have to live with.
With his extract from the report, Carl-Oskar Linné highlights the rhetorics dominating housing market politics in Sweden and invites us to reflect on the relationship between the market, its ideology and politics as well as the power of language in this context.
Carl-Oskar Linné previously presented his work "Kvadratmeterpris" on Maretopia; a sign showing the current price per square meter for housing real estate in its vicinity. Indirectly the sign also visualizes a new kind of relationship between owners and their neighbourhood which is dominated by the individual urge to secure a favourable market development of their city district, hence linking market and identity closely together and excluding those who cannot afford or simply do not believe in taking part in this economic logic.
Text: Kristina Lindemann
"We are good guys" (2015)
Made for "No things to hang" at Gaffa, Sydney, 2015. One A4.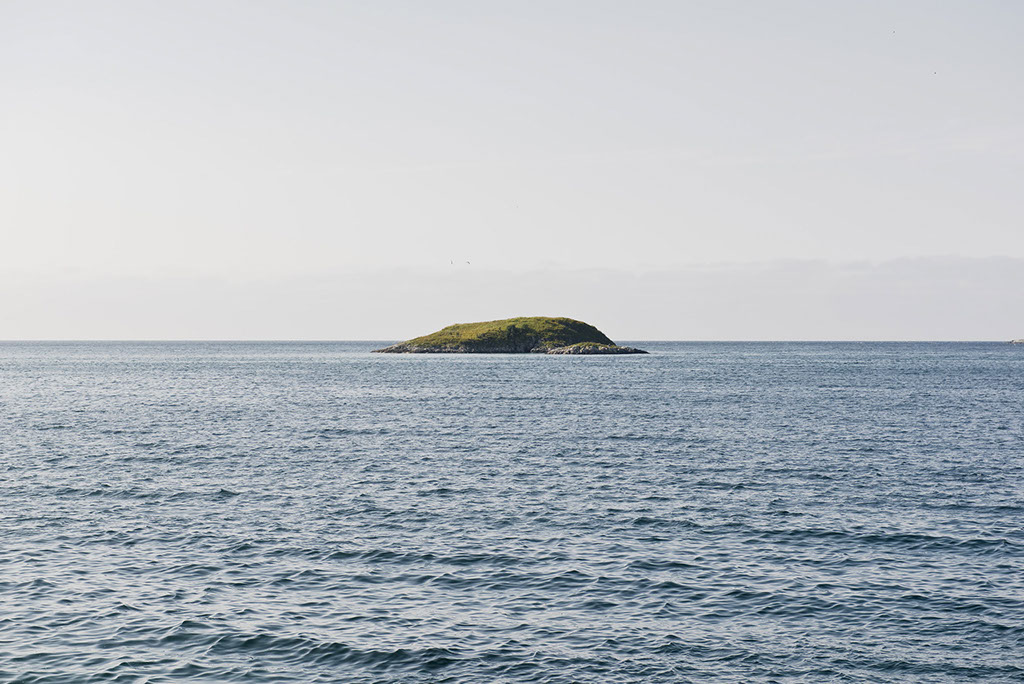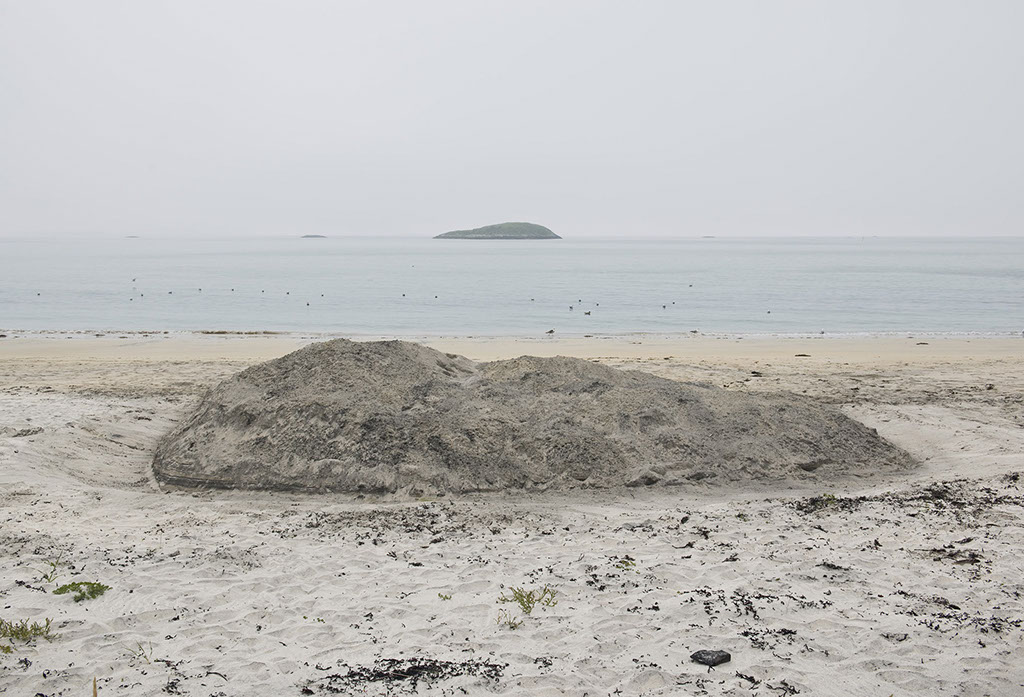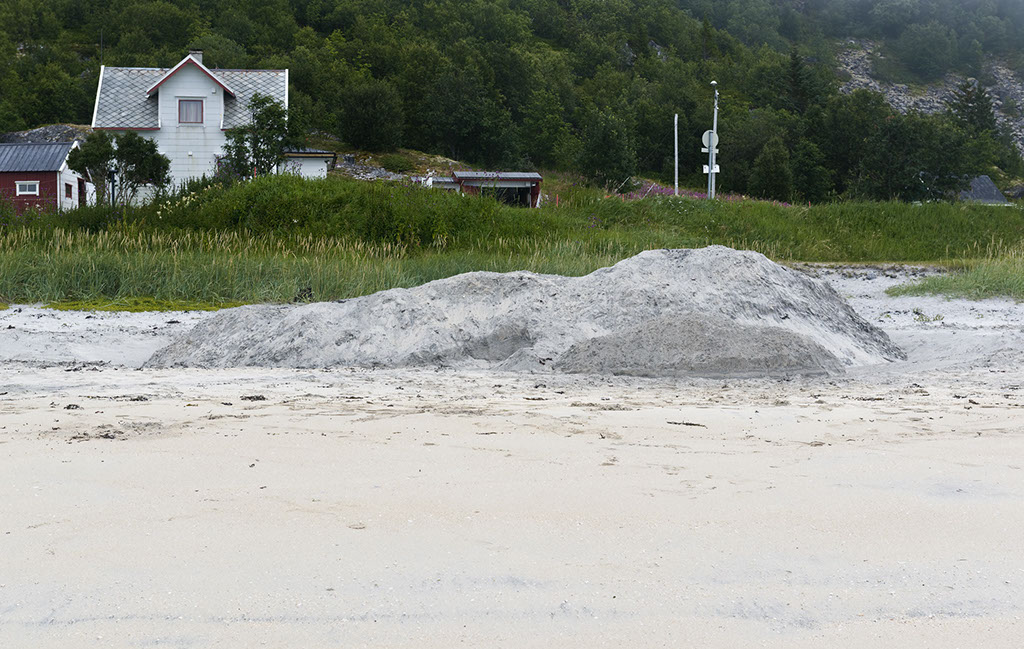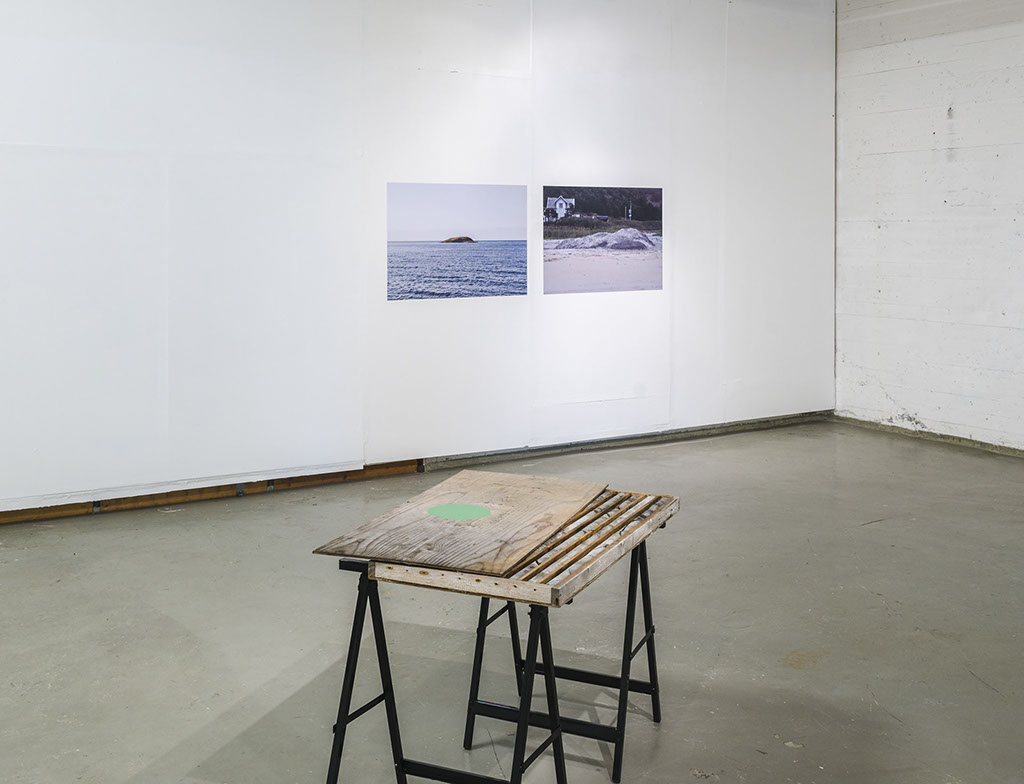 "Bøholmen" and "Copy of Bøholmen" (2013)
Copy of private island dug in sand on public beach. Inkjet on vinyl, 104 x 73 cm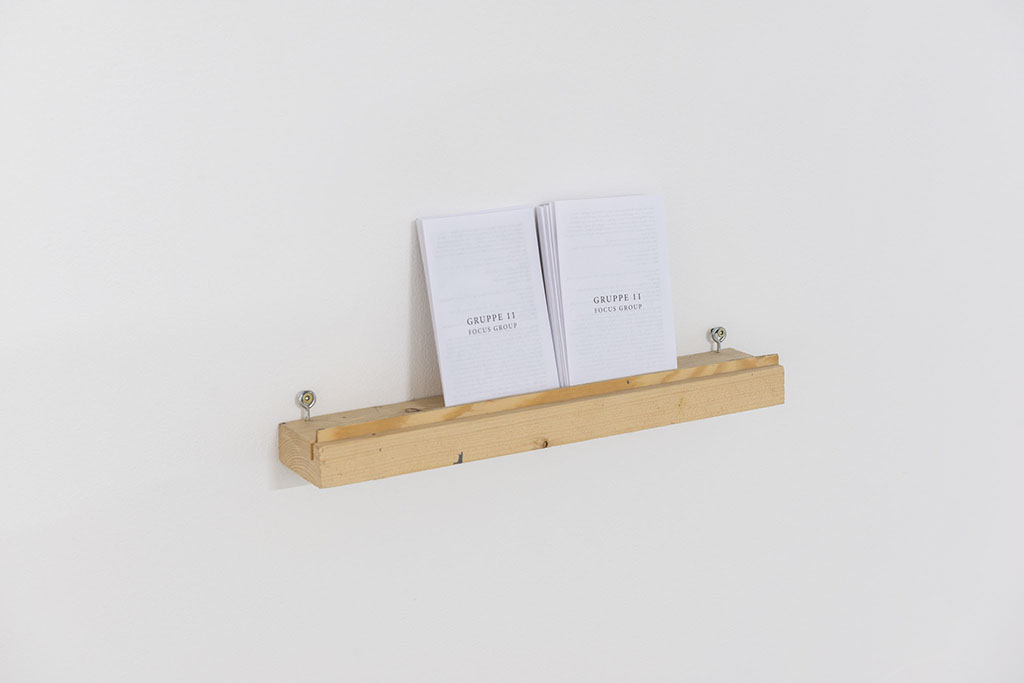 "Gruppe 11 Focus group" (2013)
Pamphlet 4p (text below), A6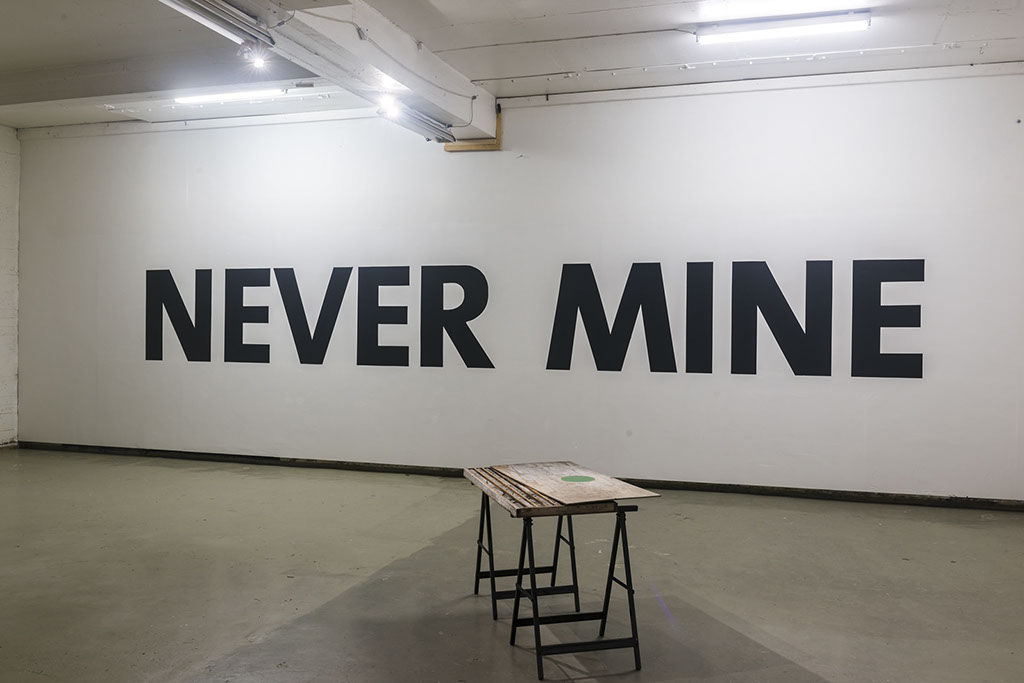 PRIVATE origin: from Latin privatus n. m. 'private citizen'; privo v 'deprive' | 'rob' | 'free' " (2013)
Found graphite sample box, painted Gruppe 11-emblem, 106 x 50 cm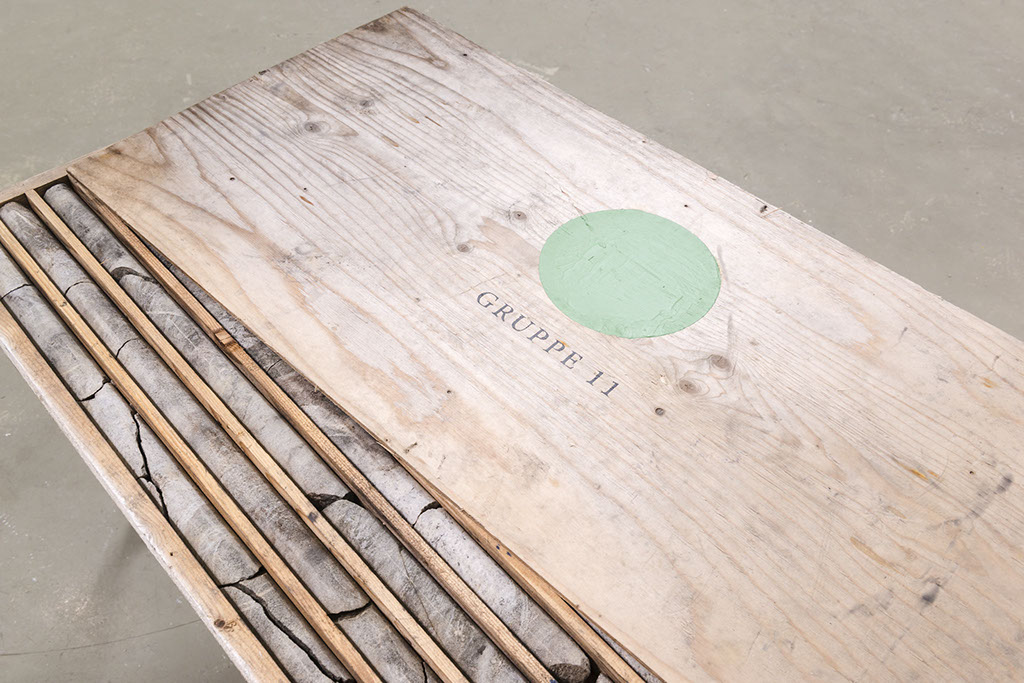 "We did not build this country" (2013)
Gray wall text, 8,3 x 1,1 m
Elias Can't you see the relation, now when we do things together, it's an extension of... You cannot do anything without the help of others. This is similar to financial funds. If you are going to cultivate land as a farmer you need to lease the land, if you are to build a company you need to invest time, it may take 50 to 100 years to build up a knowledge base and a tradition that eventually return a revenue. Constantly restarting the wheel is in many aspects quite inefficient.
Calle How do you mean to restart the wheel?
Elias Being unable to build on something that goes beyond oneself, like a business.
Calle Ok, so you say it is ineffcient to...
Elias To reset each time, yes.
Calle But is it perhaps more fair?
Elias Yes, maybe it is.
Marius But that ́s how it is with a boat? If you buy a boat you get fishing rights.
Calle Is that so?
Hedvig Yes.
Marius Everything can be owned... The sun and the moon and the stars.
Calle All that touches your eye is yours son.
Hedvig Haha, what is it?
Calle Lion King. But it points out the absurdity in sitting here and owning that mountain peak.
Hedvig Here is a cabin that is built on a beach in Lofoten that is really nice. e cottage is built of junk and without permission and is open for all to come and use it. We slept in the house for two nights. The first night we were up to 4am for sure, and we slept all day. The next day at least five-six groups entered the house while we were sleeping. First they said "Hello hello" then they opened the door and said "This is the house of two surfers that lived during winter here." Then we shouted "Hello, we are sleeping in here." In the end so many tourists had walked in and out, they came every half hour, so we decided not to care about it, just sleep and let them enter. We were sleeping in a bedroom which was smaller than the room here, about half. A house that is a tourist attraction that is a residential building without ownership. The door is open and everyone can come and go. It was a private, intimate situation to lay there and sleep while all sorts of tourists went in and out. The tourists did not see us until they came close. There was a lady that said "This is a public place, so anyone can be here, they cannot throw us out."
Marius I care awfully little about property rights to be completely honest.
Hedvig Never mine.
Calle But do you think indifference is interesting? I mean as a concept or an approach.
Marius I find that very interesting, yes.
(Visitors in the room ... Can I take some wine?)
Marius Oh yeah, help yourself, the box is there.
Calle It is open source. Common.
(Talking about cakes and children)
Calle But what I am saying is that if an open situation, such as the meaning of the two words...
Marius Never mine, yeah.
1. Never mine: Private island outside of Skaland, Senja
2. Never mine: Skaland Graphite AS. Supplying graphite to
industries worldwide
3. Never mine: Explosive mines (Anti-personnel/Anti-tank).
Preventing free movement within an area.
Ethical minefield (Ethical dilemma)
4. Never mine: Never mind (semantic)
• It is not important
• Do not be concerned (about someone or something, or
about doing something)
• I was wrong, I withdraw my previous statement
Marius My problem with property rights, I see it as a problem for free movement. Being able to go where you want. It restricts...
Calle (waving hands) THE AIR IS FREE! THE AIR IS FREE!
Elias Maybe that's where it started. sometimes it's nice, my space...
Calle There is a scale of necessity, there has to be. There are fundamental needs for space, a home for example, or a place to grow your food. But there is not a need to own an island, or a resource remote from your actual needs.
Marius I truly understand, I would never enter a plot and steal someones vegetables, but I think it is quite ok to go past the plot. I would not steal an apple, but I have the desire to go past the apple trees without being shot.
Marius "Never mine", should it be spelled as two words?
Calle Yes.
Marius I think it is multi-faceted, which is ingenious. I can see it as a huge text on the wall.
Calle I got a t-shirt by Rirkrit Tiravanija that read "OUT NOW". Who is it aimed at? It is amazing that shirt, because I see several things in front of me, I see a big police or a guard, perhaps a sverigedemokrat or someone completely different making a sharp remark, for or against something. Should we make a t-shirt?
Marius When you said t-shirt I thought "it would be so nice to have a t-shirt with Never mine on it".
Elias T-shirt, yes. Should we go through materials?
Calle What is that?
Marius It's a movie. Are some of them short?
Hedvig What is it?
Elias I have some snippets of when you are rowing and some pictures of when you row out to the island.
Emilia (not Gruppe 11) From the mountain?
Elias Yes.
Emilia ...because you hear very well from the mountain.
Elias It wasn't that good.
Marius (in the video) "I'm not rowing, I'm on vay-kay!"
Marius Sorry about that by the way.
Calle You egocentric.
Marius I have blisters on my hands.
Calle I rowed at least as much as you did.
Marius No, I rowed more.
Marius This is not a good one, because it does not show me rowing.
Calle It's showing the truth.
Elias There you see the island. There you are.
Calle The little little dot.
Marius We are the little gray pixel.
Calle There were no animals up there?
Elias Flying animals.
Marius Damn, this national romance.
Elias But t-shirt yes. And the part to do in the sand.
Calle I think that's good.
Marius Will it be our island, if we make a copy of it?
Calle No.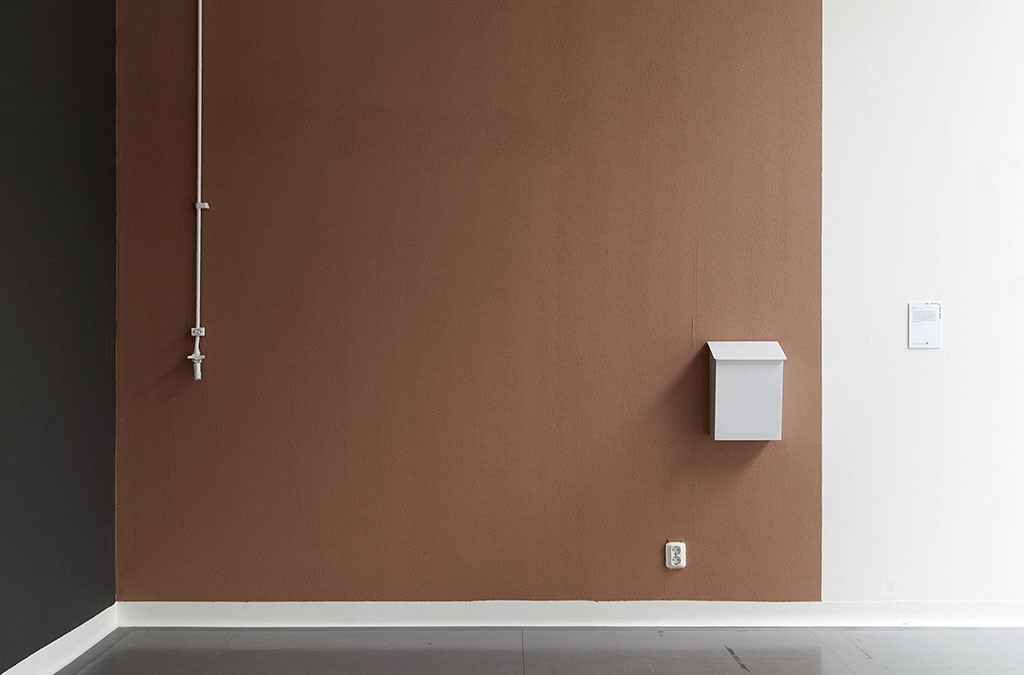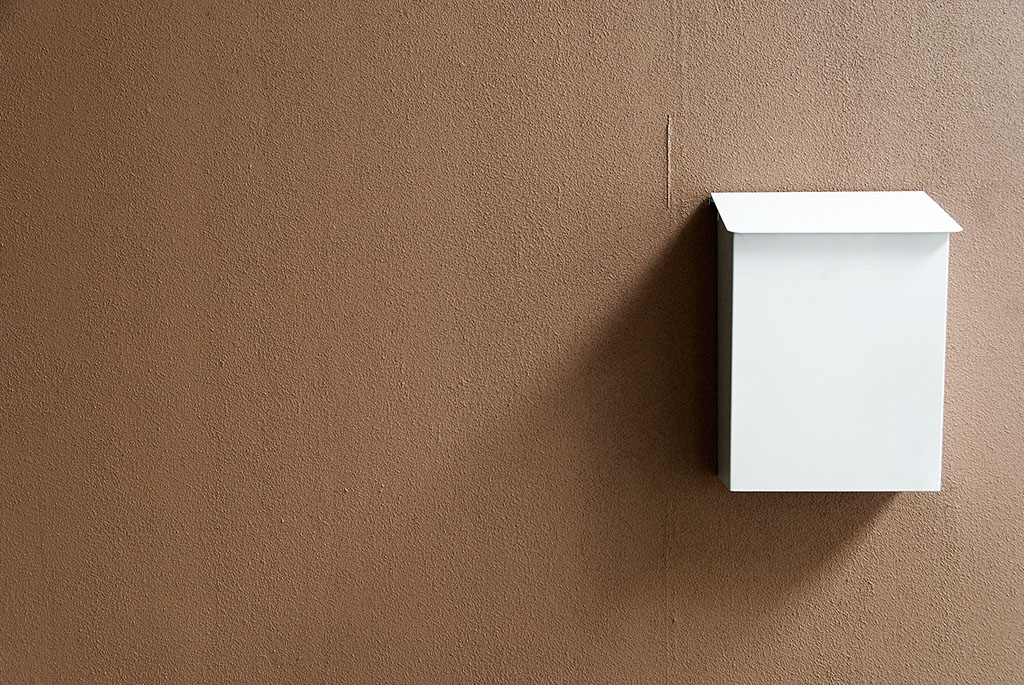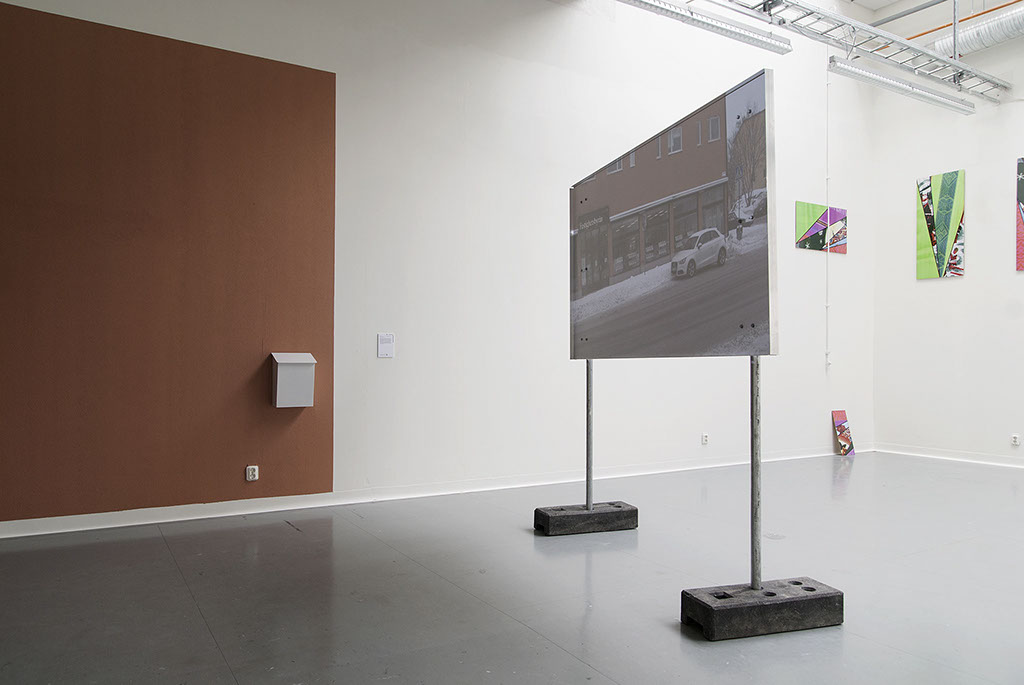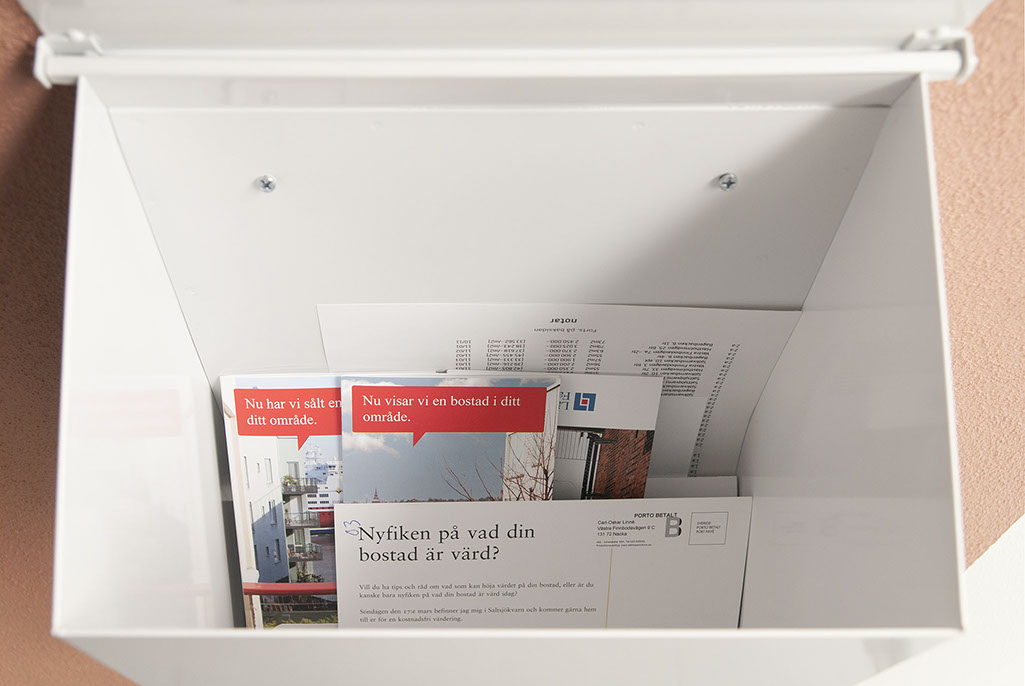 "Mäklare" ("At this point there are some 6500 agents left") (2013)
Installation (building facade, billboard screen), variable dimensions. HD video, 18 min 19 sec.
Under en researchprocess om finansiell spekulation i förhållande till hemmet stöter Carl-Oskar Linné på statistik och rapporter som berättar om en ökande arbetslöshet bland fastighetsmäklare. Genom att undersöka en påstådd flykt från mäklaryrket och ställa frågor till blivande, nuvarande och före detta fastighetsmäklare försöker han förstå bostadssäljarens förhållande sitt hem, bostadskön, spekulationsmekanismen och tryggheten. Vilka är livsvillkoren och hur är förhållandet till bostadspolitiken?
Uppsatsen "Homes, markets, individuals" (2013) beskriver tillståndet på den svenska bostadsmarknaden och vad som har lett till arbetet "Mäklare", ett verk som i grunden ifrågasätter marknadsideologin. Texten beskriver även arbetsmetoder, inspirationskällor och tidigare arbete.
During a research process on financial speculation in relation to the home, Carl-Oskar Linné encounters statistics and reports that tell of rising unemployment among realtors. By investigating an alleged flight from the realtor profession and asking questions of prospective, current and former realtors, he attempts to understand the relationship of home sellers to their home, the housing list, the speculation mechanism and security. What are the living conditions and how is the relationship to housing policy?
The essay "Homes, markets, individuals" (2013) tells about the state of the Swedish housing market and explains what has led to the work "Mäklare"/"At this point there are some 6500 agents left", a work at its core questioning market ideology. The texts also describes work methods, sources of inspiration and earlier work.
The fern flower
&
Housing market risk report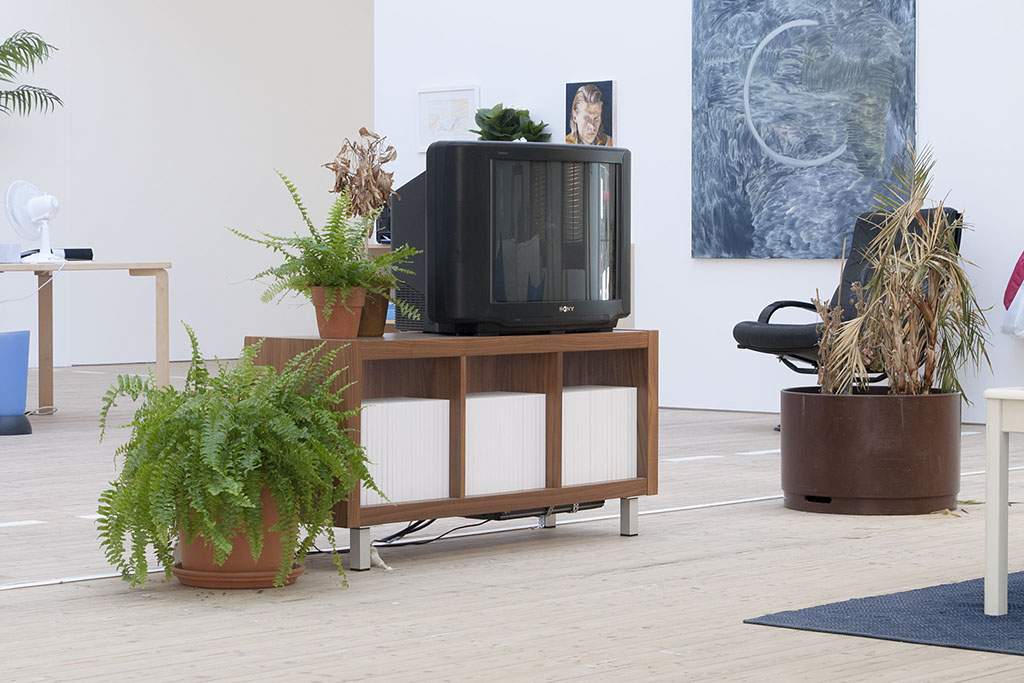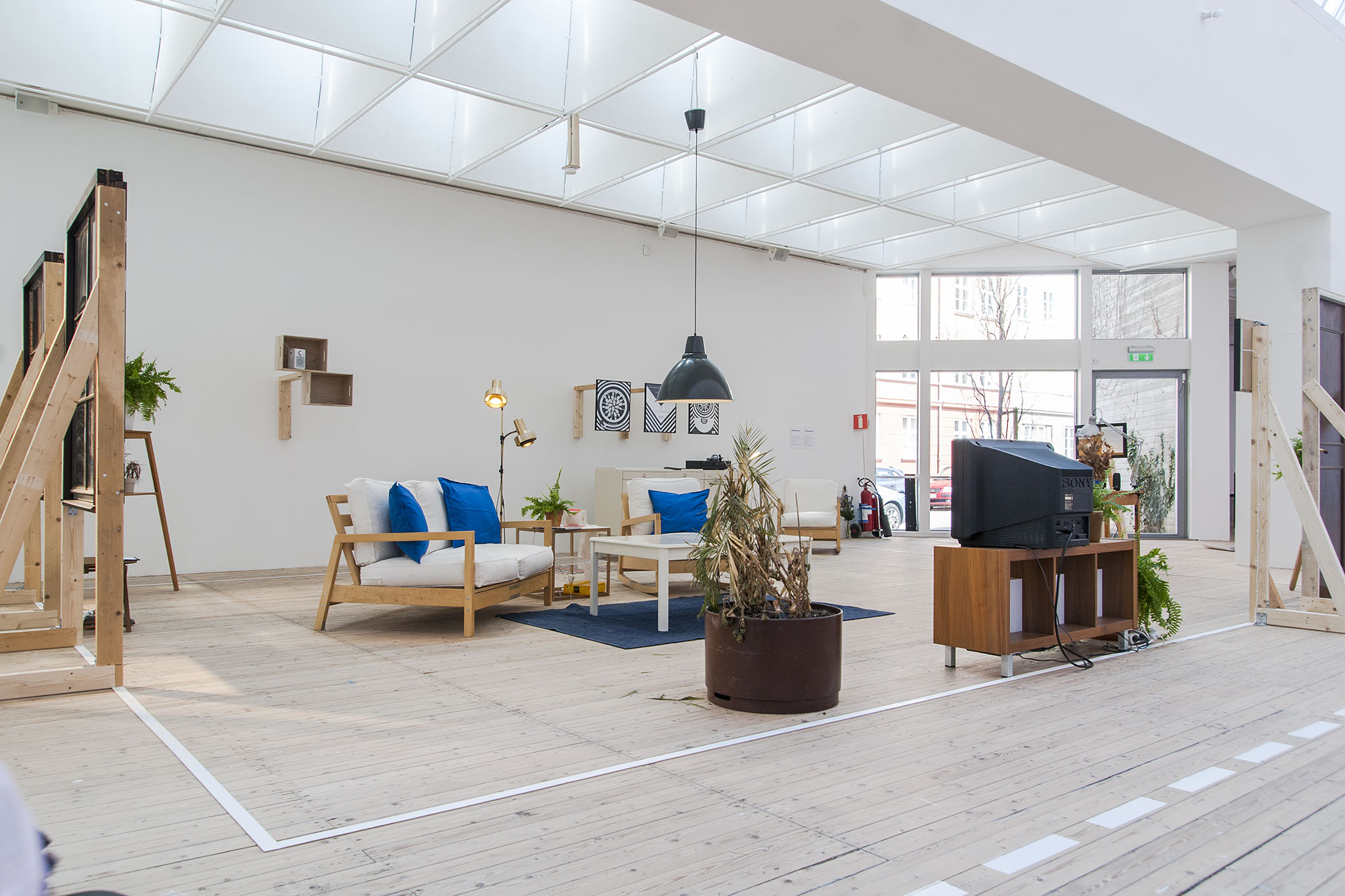 "The fern flower" (2013)
5 fern plants in terracotta pots, 4 dead plants in glazed and plastic pots, variable dimensions
"Housing market risk report" (2013)
60 copies of the Swedish Riksbank's housing market risk report ("Sveriges Riksbanks utredning om risker på den svenska bostadsmarknaden"), 20 x 30 x 4 cm each (2011)
"The fern flower", visad i Malmö Konsthalls utställning "24 Spaces" i en vardagsrumsscenografi, refererar till ormbunken som en symbol för välgång och framgång i relation till hemmet. Titeln anspelar på en historisk myt som berättar att fyndet av en blommande ormbunke symboliserar fruktbarhet, fastän ormbunken är en växt som inte blommar. "Housing market risk report" består av en rapport som Sveriges Riksbank gav ut 2011 om risker på den svenska bostadsmarknaden, en rapport som förekommer i masteruppsatsen "Homes, markets, individuals" (2013) och i verket "Som framgått av den här sammanfattningen ger utredningen inte svar på alla frågor. Det är å andra sidan kanske inte speciellt överraskande" (2015).
"The fern flower", shown in Malmö Konsthall's exhibition "24 Spaces" in a living room setting, references to the fern plant as a symbol of prosperity and good luck in relation to the home. The title connects to a historic mythology that describes the finding of a flowering fern plant as a symbol of fertility, even though the fern plant do not flower. "Housing market risk report" consists of a 2011 report from the Swedish Riksbank about risks on the Swedish housing market, a publication that is featured in the master essay "Homes, markets, individuals" (2013) and in the work "Som framgått av den här sammanfattningen ger utredningen inte svar på alla frågor. Det är å andra sidan kanske inte speciellt överraskande" ("As shown in this summary the inquiry does not answer all questions. On the other hand that might not be very surprising.") (2015).
Real world or places that don't exist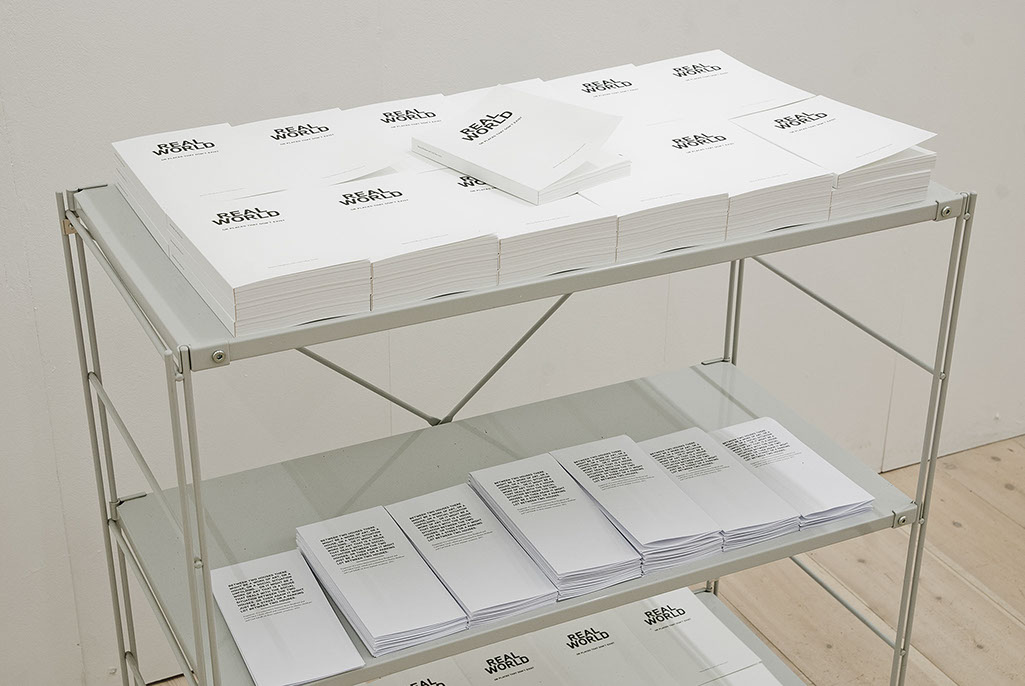 "REAL WORLD or places that don't exist" (2012)
Collaborative project with Marius Moldvær. 216 page b/w book, 12 x 19 cm on Invercote Creato Matt 300g and Scandia 2000 Naturvit 100g, about the sites: The National Archive in Oslo, Gibraltar, American Museum of Natural History and the Hayden Planetarium, NATO, Versailles, Le Bon Marché, Ironbound, The Netherlands, FLushing Meadows Corona Park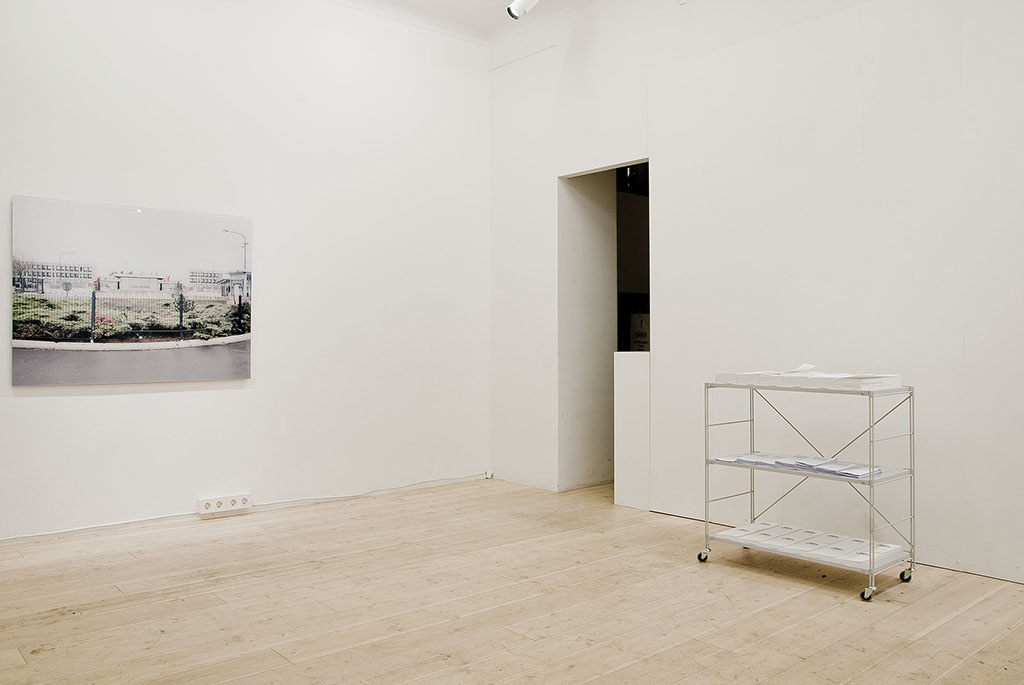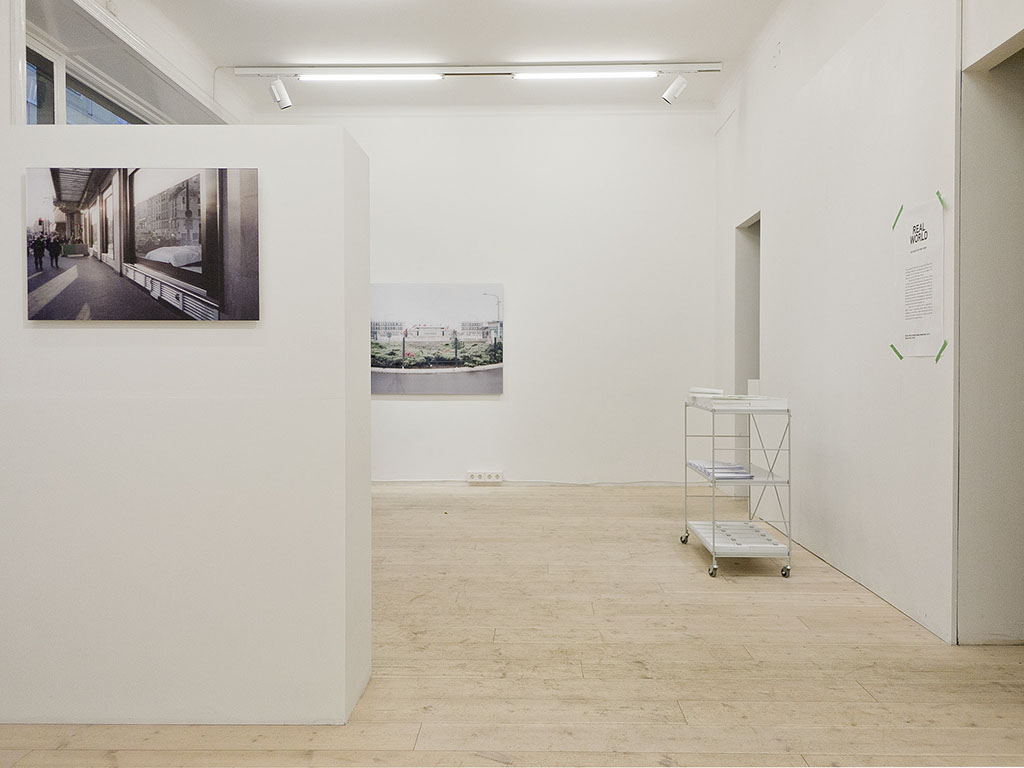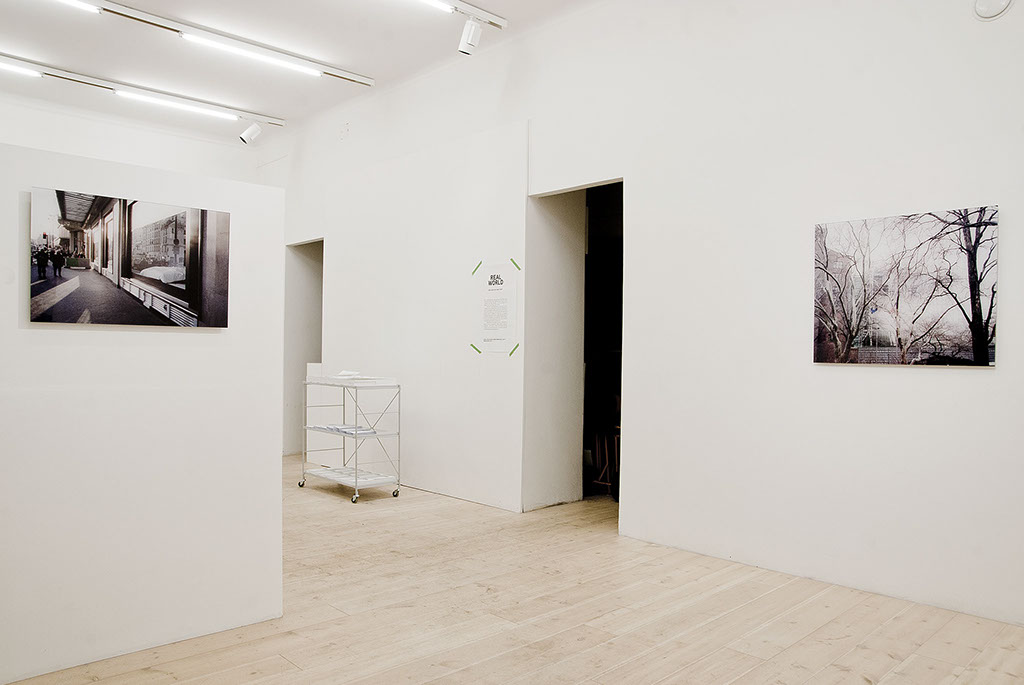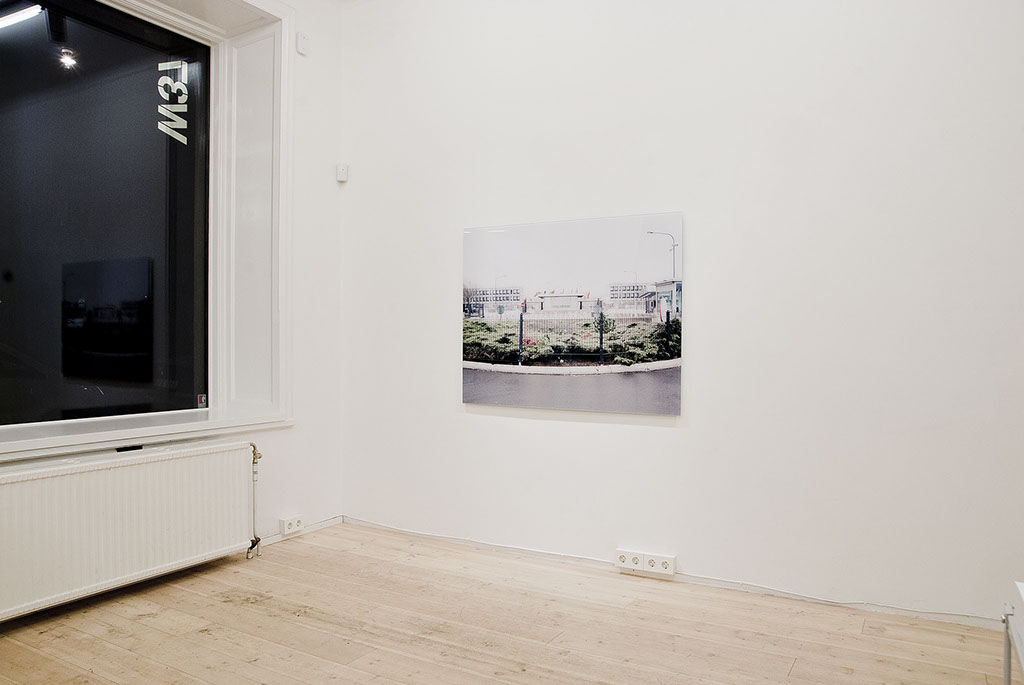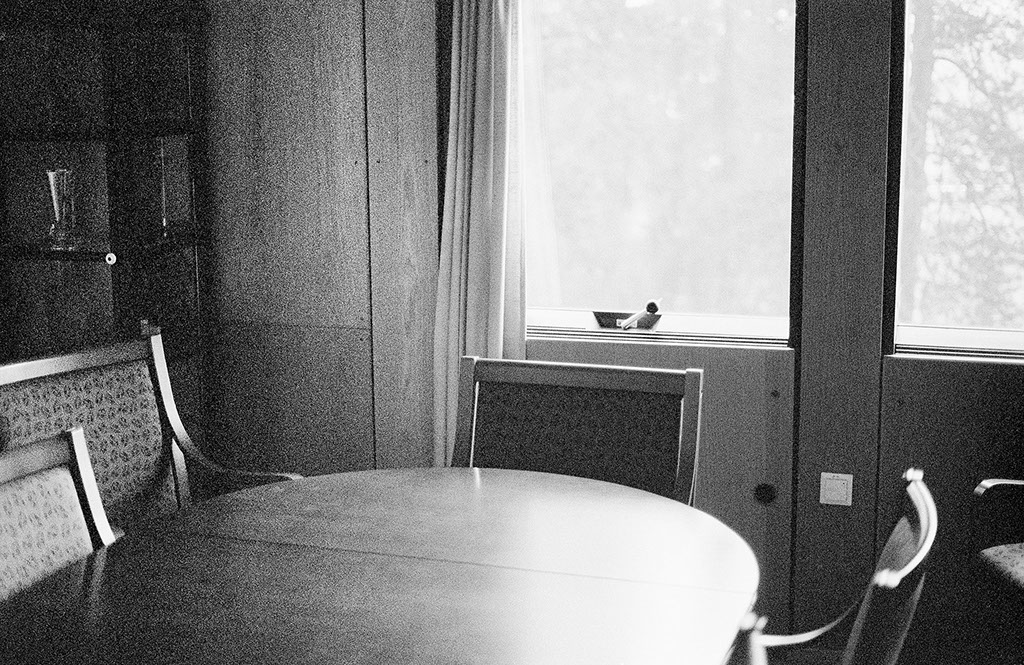 "Sentralarkivet" (2012)
71 x 47 cm, inkjet print in plexi/aluminum sandwich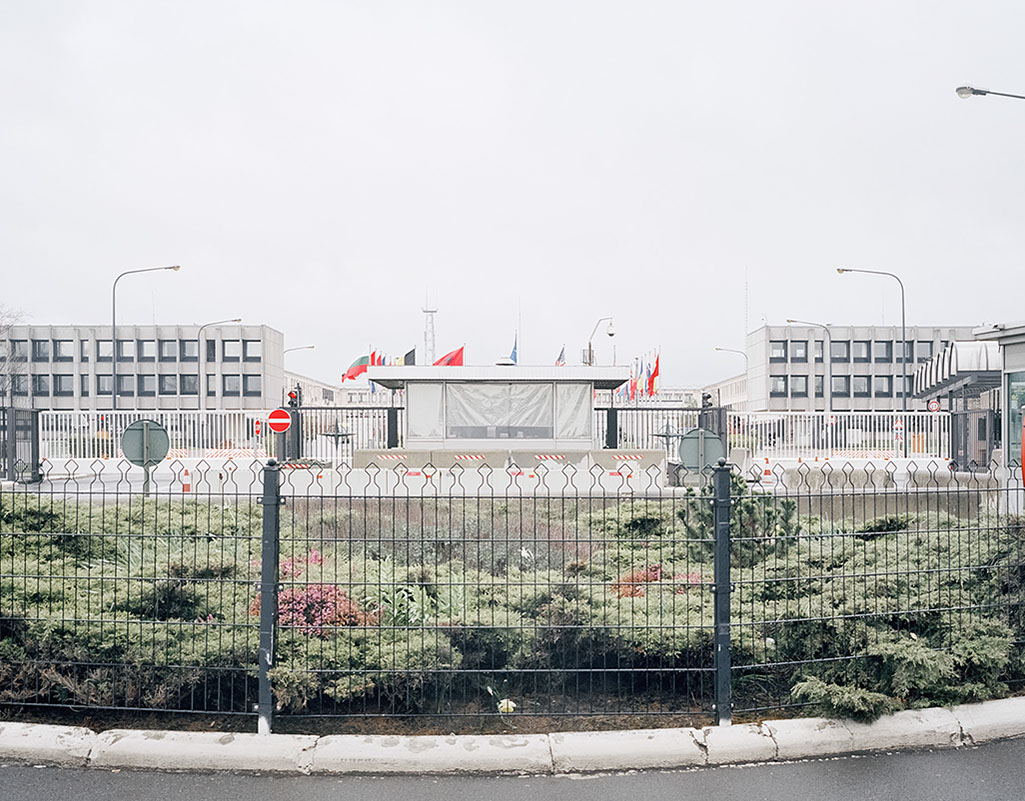 "NATO" (2012)
130 x 100 cm, inkjet print in plexi/aluminum sandwich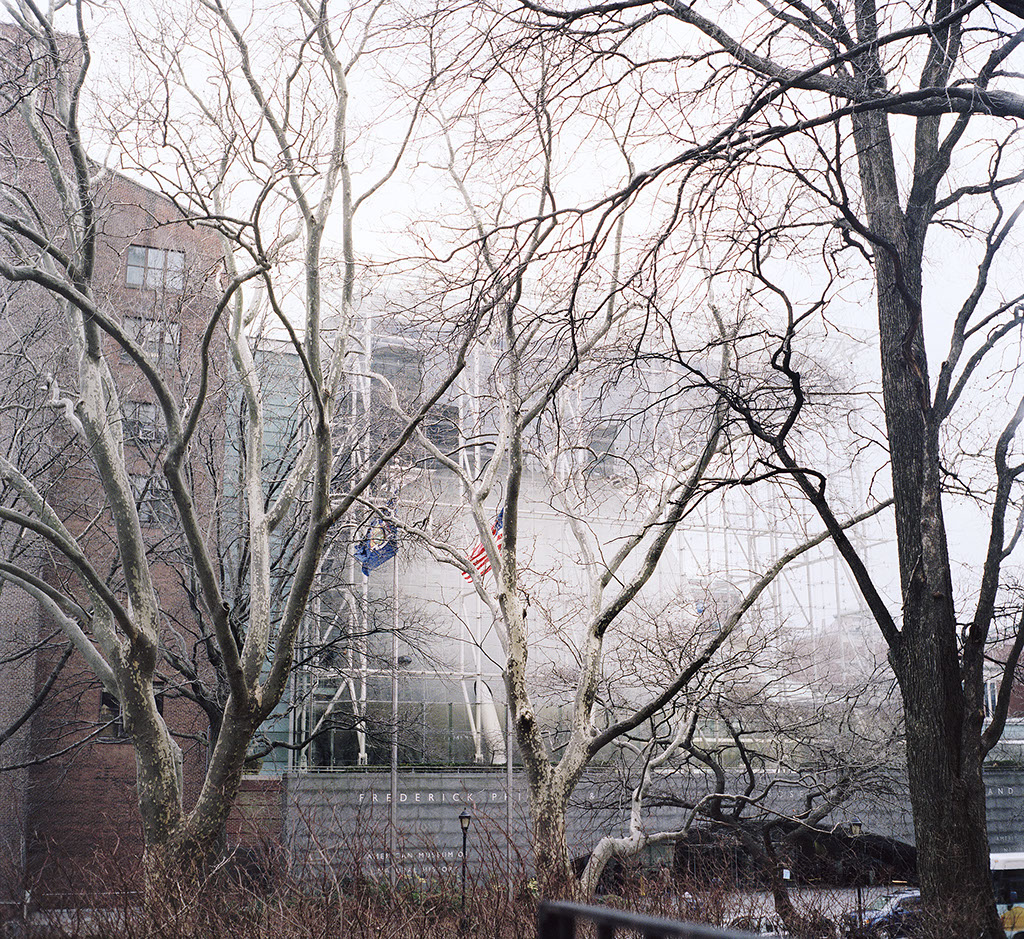 "Hayden Planetarium" (2012)
83 x 71 cm, inkjet print in plexi/aluminum sandwich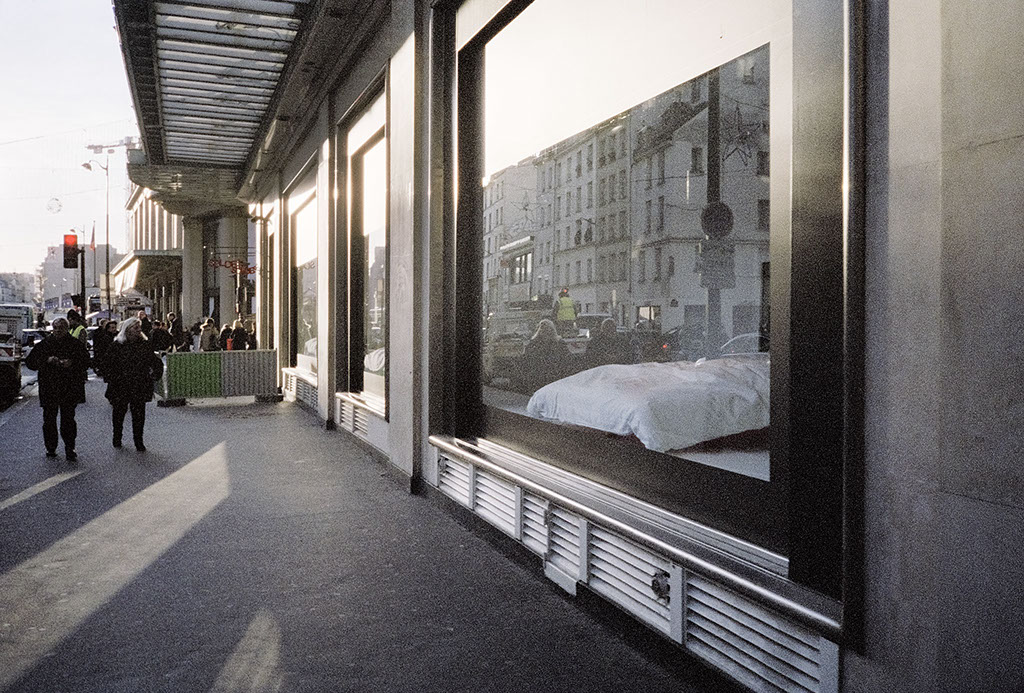 "Bon Marché" (2012)
71 x 47 cm, inkjet print in plexi/aluminum sandwich
Utdrag från Q & A med Sally Müller och Heather Jones i samband med utställningen "Let's pretend we live here" på Lokalrätten, Atelier 123, Cigarrvägen 13 och Konstapoteket i Hökarängen, Stockholm, 2013.
Real World or Places that Don´t Exist är ett samarbetsprojekt mellan er, Carl-Oskar Linné och Marius Moldvaer. Kan ni berätta lite mer om idén bakom projektet och hur det kom sig att ni började jobb med varandra?
MM: Jag skulle säga att projektet utvecklade sig ganska naturligt från våra gemensamma intressen. Det är en naturlig följd av samtalen vi haft. En diskussion mellan två personer som tog en intressant gir. Det är vårt gemensamma intresse i platser tillsammans med skillnaderna och likheterna i hur vi ser på dem.
COL: Det och att vi har samarbetat tidigare. Vi gjorde det under skolgången genom att ge och få råd av varandra om våra rätt väsensskilda projekt. Efter att ha gjort det gång på gång var det tydligt hur våra angelägenheter hängde samman. Vi har också samarbetat i Gruppe 11, så det var nog ganska naturligt att det här projektet kom till.
Mycket av ert arbete innefattar urbana och suburbana landskap och ämnen. Vad är det som intresserar er i staden och hur tänker ni kring och interagerar med dessa platser?
COL: För mig kommer det från en bas i fotografi. När jag började fotografera var det den typen av landskap jag tog itu med, som ett sätt att bearbeta mitt förhållande till det som omgav mig. Själva arbetet handlar inte om fotografi, snarare använder jag det som metod för att tala om spekulationsmekanismer, ensamhet, turism eller andra sidor av platsen jag befinner mig i. Jag vill se på punkten där det privata och det offentliga skär varandra, det intima möter det politiska. Det är situationer som är lätta att hitta i staden, och kanske ännu mer i hemmet.
MM: I städerna, för mig är det där världen blir till, där vi interagerar med varandra. Min fascination för det vilda och naturen kommer alltid vara i relation till samhället och staden.
COL: Det du sysslar med just nu handlar om vildmarken, eller hur?
MM: Ja, det gör det. Jag tänker alltid på de två sakerna samtidigt, vildmarken och samhället, det obefolkade och det befolkade. Det känns som att vi ständigt juxtaposerar olika oppositioner i våra arbeten, det pendlar och oscillerar, det postmoderna och det romantiska, det metamoderna.
COL: I boken tycker jag att det där metamoderna tillståndet bäst syns i kapitlet om Versailles, där den första delen citerar Rousseau om naturtillståndet och fotnoterna sedan refererar till filmen Marie Antoinette i form av en lista med alla platser där filmen spelades in på. Det finns egentligen två delar i varje kapitel, texten och fotnoterna, där delarna omväxlande refererar till det fiktiva och det faktiska.
En del av Real Worlds or Places that Don´t Exist involverar den godtyckliga översättningen av födelsedatum till geografiska koordinater. Vilken roll spelar chans och fantasi i projektet och ert arbete i stort?
MM: Godtyckliga översättningar... Allt språk är godtyckligt. Vi använder födelsedatum som ett exempel på hur en plats ges betydelse genom våra handlingar. Den platsen hade ingen betydelse innan vi fann den på grund av sina koordinater.
COL: Chans och fantasi då?
MM: Fantasi, jag tänker på de fyra fotografierna från Auschwitz, Georges Didi-Huberman-boken där han säger att för att se på fotografier måste du ha fantasi, du måste kunna föreställa dig och det är då fotografiet är som kraftfullast. Det är en viktig poäng. Vilken roll har chans och fantasi i ditt arbete?
COL: I en undersökning kan du aldrig vara riktigt säker på vad du kommer stöta på eller vad som kommer ladda arbetet. Fast det är inte riktigt chans. Jag tycker om hur du beskriver föreställningsförmågan. När jag visar bilder berättar bilderna själva väldigt sällan hela historien, det finns mycket möjligheter för föreställningar. Genom att lyfta fram delar och fragment av vad som ligger bakom bilden tror jag att föreställningarna får mer ... umpf. Informationen, fragmenten, kan sätta verket i en större kontext även om det inte är uppenbart i bilden själv, som i Christopher Williams fotografi.
I projektbeskrivningen säger ni att ni undersöker platser som av olika anledningar egentligen inte existerar. Vad menar ni med detta och skulle ni kunna beskriva hur berättelser, fasader och kulturella förändringar har med det att göra?
COL: Jag tror vi ser platser på flera sätt. Vi började diskutera platserna och hittade många olika aspekter av de. Vi upptäckte vad som skulle kunna kallas för berättelser, fasader… Jag föredrar att kalla de för lager. Det var startpunkten, sedan utvecklades projektet till att avsiktligen leta efter platser som är ambivalenta eller svåra att definiera, men ändå är kända platser.
MM: Alla de här platserna är starka platser, första mötet är starkt, som i fallet med NATOs huvudkvarter. Det har en tyngd. Men sen har du alla de här lagerna, när du ser närmre på var och en av dem kommer du till en punkt där den fysiska förekomsten av NATOs huvudkvarter är… (tystnad)
COL: Jag tror att alla dessa platser under omständigheterna i själva verket blir ickeplatser. NATO är inte nödvändigtvis en plats, Bon Marché är inte nödvändigtvis en plats, Naturhistoriska Museet är inte nödvändigtvis en plats. Det handlar om förhållande till maktstrukturer, till lokala och kulturella företeelser, personliga erfarenheter... Platsen i sig blir nästan en biprodukt. Ju mer vi gräver, desto mer förstår och missförstår vi.
Excerpt from Q & A with Sally Müller and Heather Jones in connection to the exhibition "Let's pretend we live here" at Lokalrätten, Atelier 123, Cigarrvägen 13 and Konstapoteket in Hökarängen, Stockholm, 2013.
Real World or Places that Don't Exist is a collaborative project between you, Carl-Oskar Linné and Marius Moldvaer. Can you tell us a little bit about the impetus for this project and how you came to work together?
MM: I would say that the project developed quite naturally from our joint interests. It's a natural progression of discourse. A discussion between two people that took an interesting turn and ended up in this artwork. It's our joint interest in places together with the contrasts and similarities in the way we view them.
COL: That and that we have collaborated before. We did while in school by asking each other for advice about our very different projects and by doing that numerous times we found out how our concerns are connected. We then collaborated through Gruppe 11, so it is indeed natural that this project came to be.
Much of your work incorporates urban and suburban landscapes and motifs. What is it about the cityscape that interests you and how do you think about and interact with these places?
COL: For me it comes from photography. When I started photographing I dealt with those kinds of landscapes, as a way to address my relationship with that was around me. The actual work is not about photography, rather I use it as a method to talk about modes of speculation, loneliness, tourism or other aspects relating to sites I am in. In particular I'm concerned with when private meets the public, or the very intimate meets the political. This is easy to find in a city, and even more in the home.
MM: The cityscape, let's call it the city, for me that is where the world is created, where we interact. My fascination for the wild and nature will always be in relation to society and the city.
COL: What you are working on right now is about wilderness, right?
MM: Yes, it is. I always think of them both at the same time, wilderness and society, the inhabited and the uninhabited. It seems like there is a constant juxtaposing of oppositions in what we do, the pendulating, the oscillating, the postmodern and the romantic, the metamodern.
COL: I think in the book this metamodern state is most visible in the chapter about Versailles, where the first part quotes Rousseau about the natural state and then in the footnotes refer to the bulk of information about the film Marie Antoinette, listing all the sites that the film was recorded in. In this way, in each chapter there are two parts, the text and the footnotes, one part referring to the fictional and one to the factual.
Part of Real World of Places that Don't Exist involves the arbitrary translation of birth dates into geographical coordinates. What are the roles of chance and imagination in this project and your practice as a whole?
MM: Arbitrary translations... I think all language is arbitrary. We used birth dates as an example of how a place is given importance through our actions. That place had no value before we found it to be the coordinates of our birth dates.
COL: What about chance and imagination?
MM: Imagination, I'm only thinking about the four photographs from Auschwitz, the Georges Didi-Huberman book, where he says that to look at photographs you have to imagine, that is the way that the photograph is at its most powerful. Imagination, the first part is image. That is a vital thought. What are the roles of chance and imagination in your practice?
COL: In an investigation you can never be certain what you will bump into or what will trigger your work. But that is not really chance. I like the way you describe imagination. When I display images, very rarely the pictures tell the whole story, there is a lot of opportunity for imagination. By presenting pieces and fragments of what is behind the image I think the imagination gets even more … oumpf. Those pieces and fragments can place it in a bigger picture, even if they are not directly visible in the picture, like in Christopher Williams' photographs.
In the project description you say that you're investigating places that, for various reasons, don't actually exist. What do you mean by this and can you describe how narratives, facades and cultural shifts come into play?
COL: I think we look at places in many ways. We started debating these sites and found very different aspects of them. We found what could be called narratives, facades… I like to call them layers. That was the starting point, the project developed from that into intentionally looking for places that are ambivalent or difficult to define, but still well known.
MM: All of these places were strong places, the first encounter is strong, like with the NATO headquarters. It has a weight. But then you have all these layers, when you start looking at each one of them you come to a point where the physical existence of the NATO headquarters is… (silence)
COL: I think all of these places are in fact, debatable, non-places. NATO is not necessarily a place, Bon Marché is not necessarily a place, the Museum of Natural History is not necessarily a place. It's about relations to power structures, to local cultural phenomenons, personal experiences, the places in themselves become almost a by-product. The more we dig, the more we understand and misunderstand.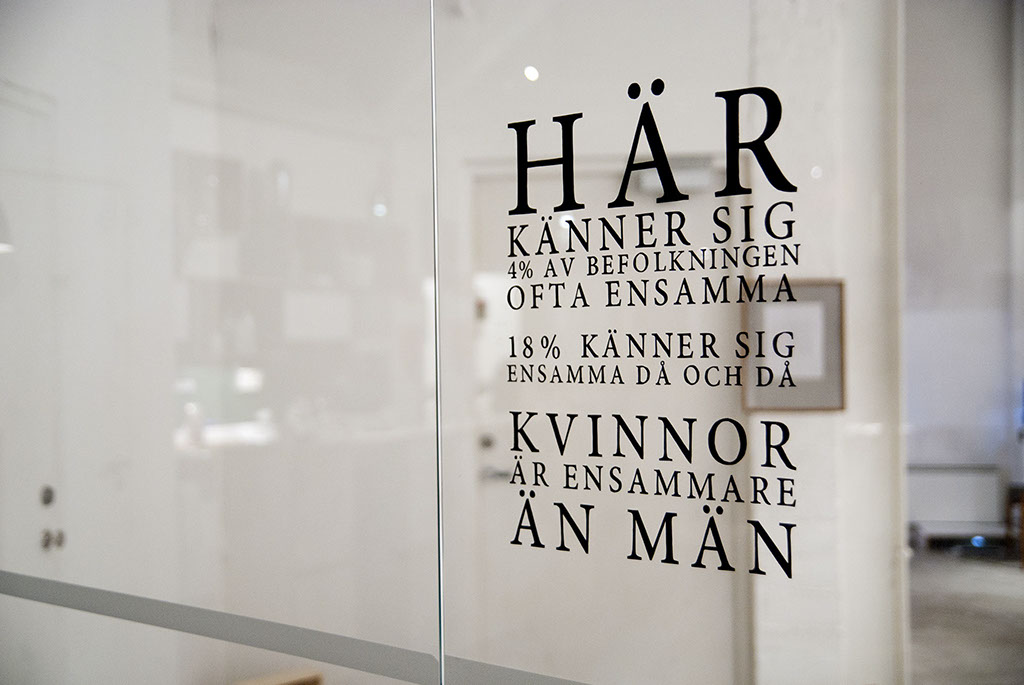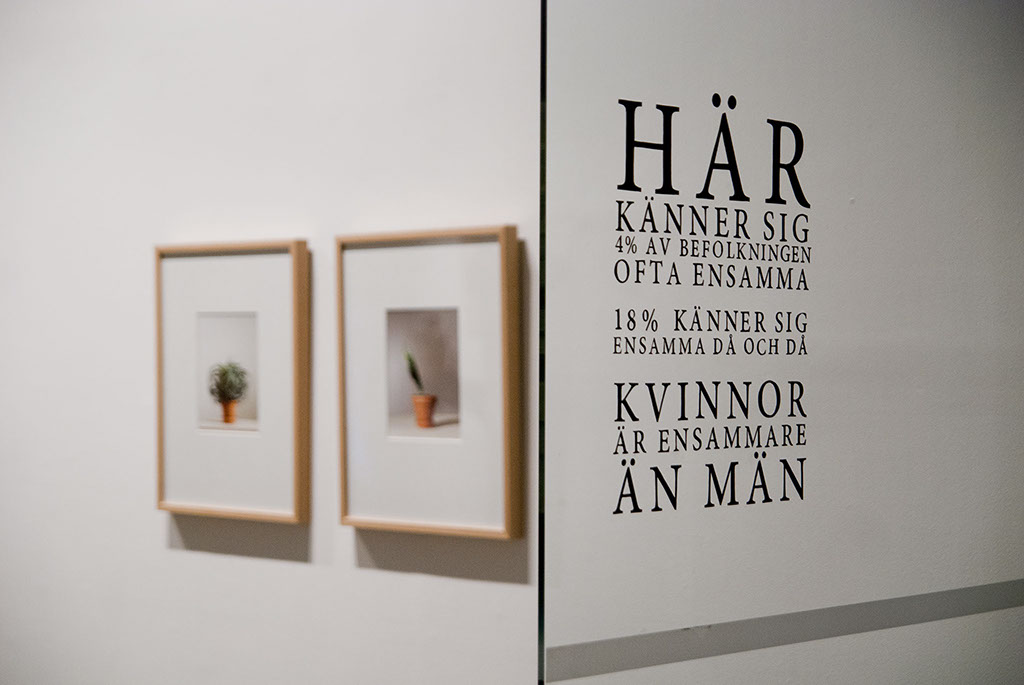 "Non-fiction Norge" (2011)
Black vinyl text on window, 40 x 25 cm
"Non-fiction Norge 2" (2012)
Text, inkjet print, archival matte 160g, stage light, 167 x 107 cm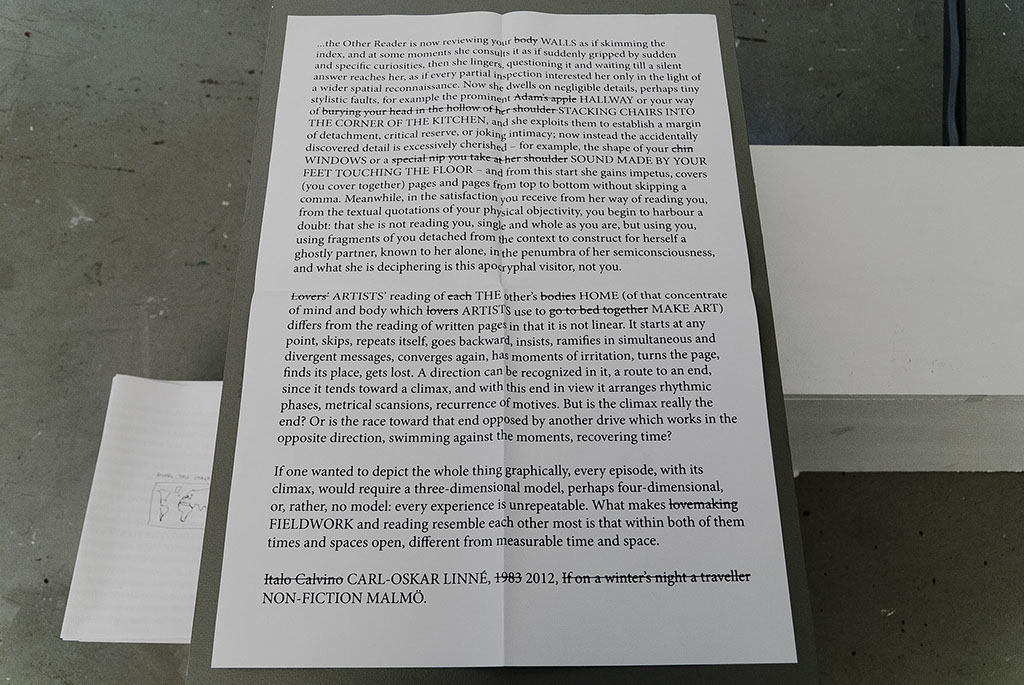 "Non-fiction Malmö" (2012)
Text, inkjet print, coated glossy paper 140g, 46 x 64 cm
Verksserie som använder statistik såväl som mofifierade fiktiva texter för att utforska sambandet mellan privata och allmänna sfärer. Hör samman med föreläsningsperformances hållda på Konstfack, Stockholm och Broadway Media Arts, Nottingham.
Series of work using statistics as well as modified fictional texts to explore connections between private and public spheres. Accompanying lecture performances held at Konstfack, Stockholm and Broadway Media Arts, Nottingham.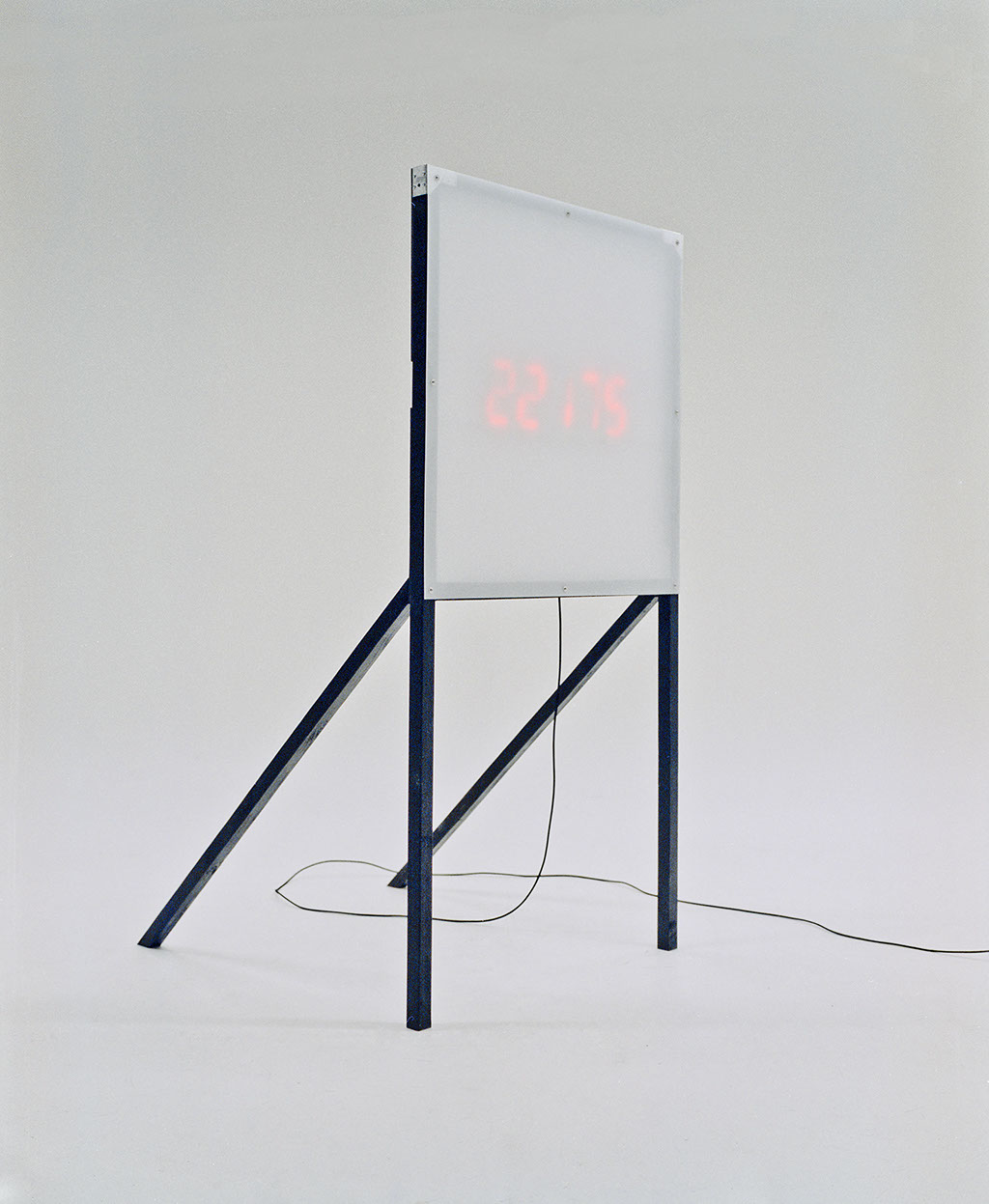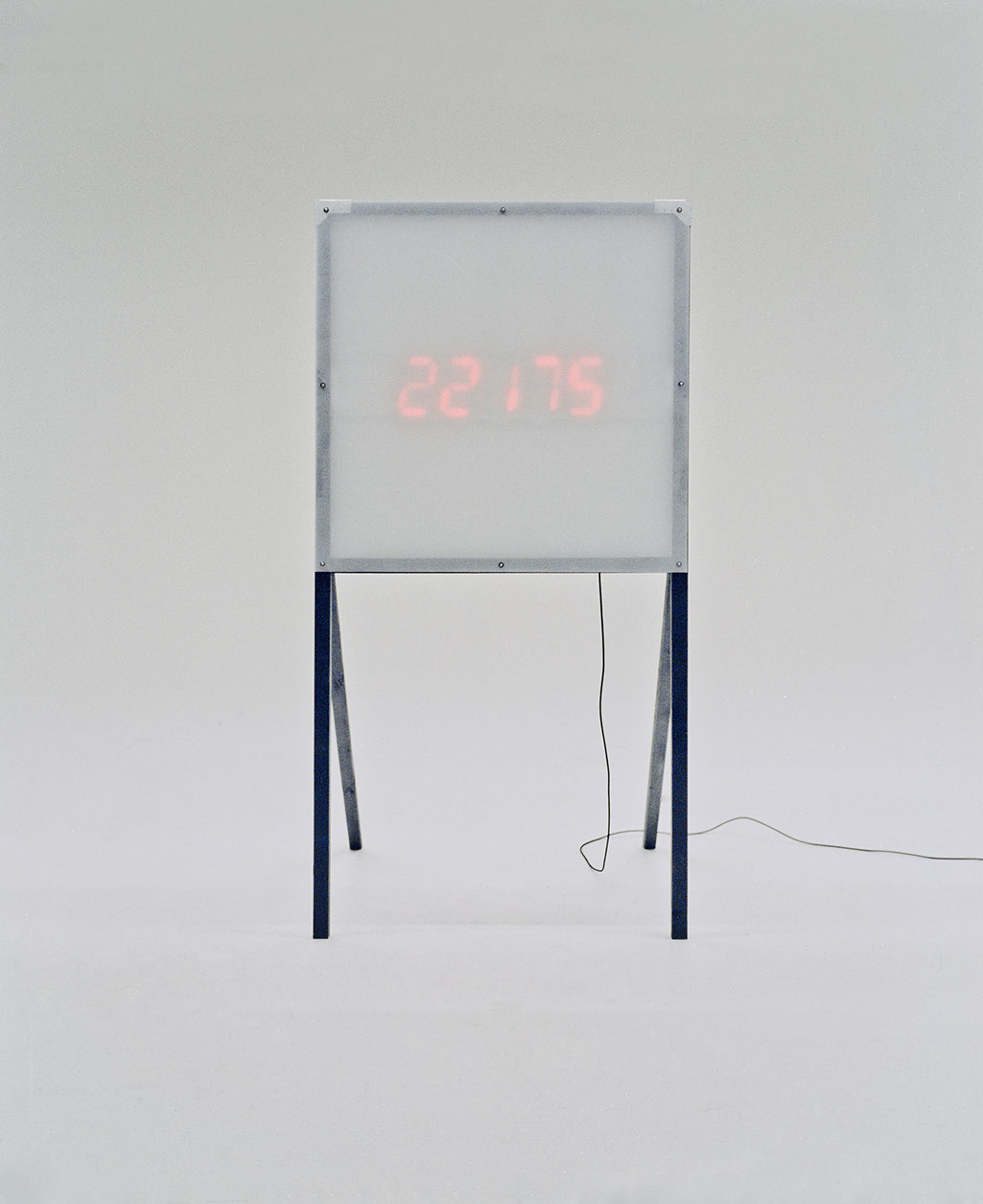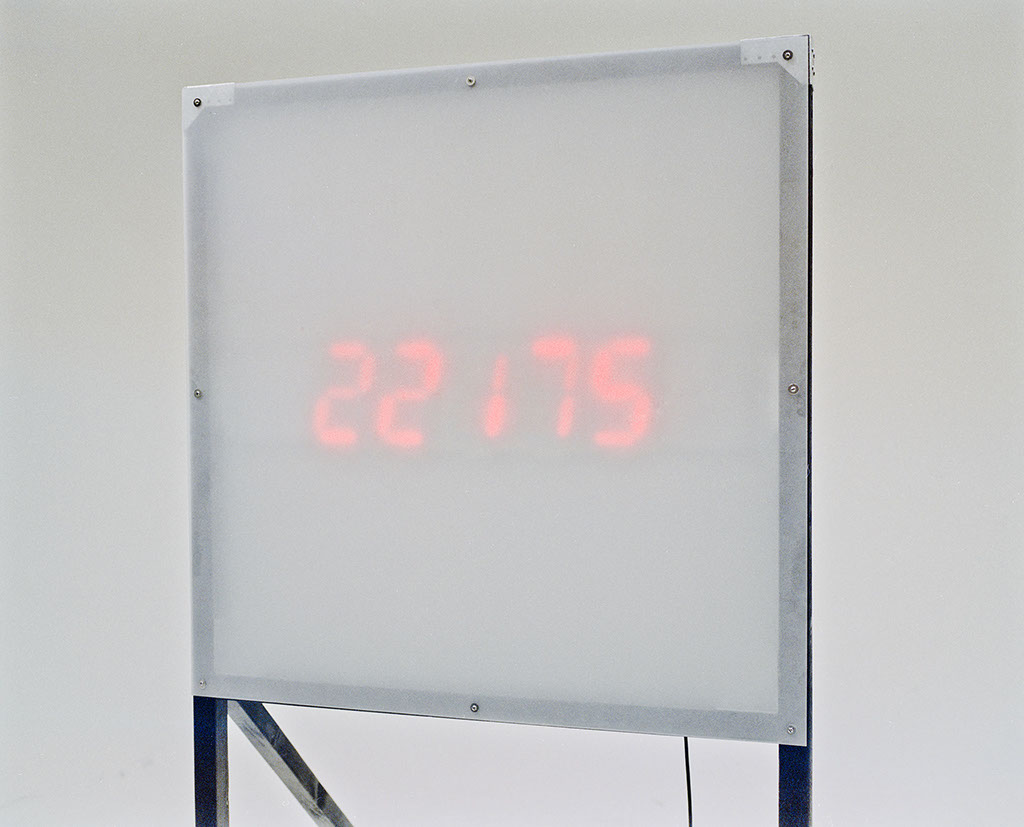 "Kvadratmeterpris" ("Square meter price") (2011/2015)
Prototype on proposal for public, digital and interactive sign that shows the current square meter price for housing in the nearby area, 1 x 1 x 2 m. Shown at, among other sites, Färgfabriken 2015. Video below from installation in Gröndals Båtklubb in connection to artist talk with Jens Evaldsson and Sarah Guarino Florén as part of the Maretopia programme, 2015. A new version is being constructed, featuring powder coated stainless steel construction and a laser cut plexi front, high intensity leds, a computer that senses its location through gps, updates its data with 3 and changes the number thereafter. The new version also features 6 digits instead of the original 5, as housing prices in the Stockholm has continued to soar beyond expectation.
Om du har prenumererat på en tidning i någon av de större städerna i Sverige de senaste åren har du säkert noterat hur bostadsbilagan vuxit i omfång. Från att ha varit en relativt gles bilaga finns det nu flertalet olika bilagor med varierande, ofta exklusiva tema. Bilagorna tar för en person som inte kan få banklån cirka 1 minut att läsa, då de nästan uteslutande består av bostadsrättsannonser.
Sedan 2008 går det i Sverige att köpa en bostad utan att för den delen gå med i en bostadsrättsförening, den sammanslutning som vanligtvis sköter saker som sophantering och godkännande av andrahandsuthyrning. Lagen om ägandelägenheter i tre dimensioner uppmuntrar till köp av fler bostäder för den som har pengar. Enligt ministern som står som avsändare för lagen, Beatrice Ask, är detta ett medel för att bota bostadsbristen i landet - genom andrahandsuthyrning. Hyresrätten som en utbredd och vanlig bostadsform är samtidigt på väg bort, att få ett kontrakt på en hyreslägenhet i någon av de större städerna tar allt från fem till trettio år.
Sverige på 10-talet är mer "mitt" och mindre "vårt". När jag nu efter folkhemmets avveckling söker efter något som påminner om det tidigare kollektiva tänkandet är det prisnivån "för att bo där vi bor" som tydligt framträder som ett gemensamt intresse grannar emellan. Om både jag och mina grannar plockar upp skräpet, håller rent i vår trädgård eller bakgård, ser till att våra barn har något att sysselsätta sig med och har ett fruktsamt socialt liv med varandra belönas vi genom det faktum att vårt område blir attraktivt och att värdet på våra hem stiger. Två rum och kök är i första rummet en investering och i andra rummet en plats att kalla hem.
If you have subscribed to a news paper in any of the larger cities in Sweden the last few years you might have noticed how the housing part has grown in size. From having been a peripheral part there are now numerous, exclusive-focused lifestyle magazines sent along with the newspapers. These magazines takes about a minute to read for a person that cannot or will not get a bank loan, as they almost entirely are made up of real estate advertisement.
Since 2008 it is in Sweden possible to buy an apartment without joining a housing cooperative, the neighbour organisation that usually takes care of things like trash collection or approval of subletting. The law about this juridically new type of apartments, "ägandelägenheter", encourage purchase of several homes for the one who has the capital. According to the minister that presented this piece of legislation, Beatrice Ask, this is a method to cure the urgent lack of housing in Sweden - through subletting. Parallell to this, the rental apartment as a common housing type is disappearing; To get hold of a rental apartment in any of the larger cities goes through a queue and takes between five to thirty years.
Sweden in the 10s is more "mine" and less "ours". When I after "the people's home's" ("folkhemmets") discontinuation look after something that reminds me of the earlier collective mindset, it is the price level to live where we live that appears as our common interest. If both me and my neighbours pick up the litter, keep our yards tidy and make sure the kids have something to do and we all get to know each other, we are rewarded with our area becoming attractive and the value of our homes increasing. Two rooms and a kitchen is primarily an investment and secondarily a place to call home.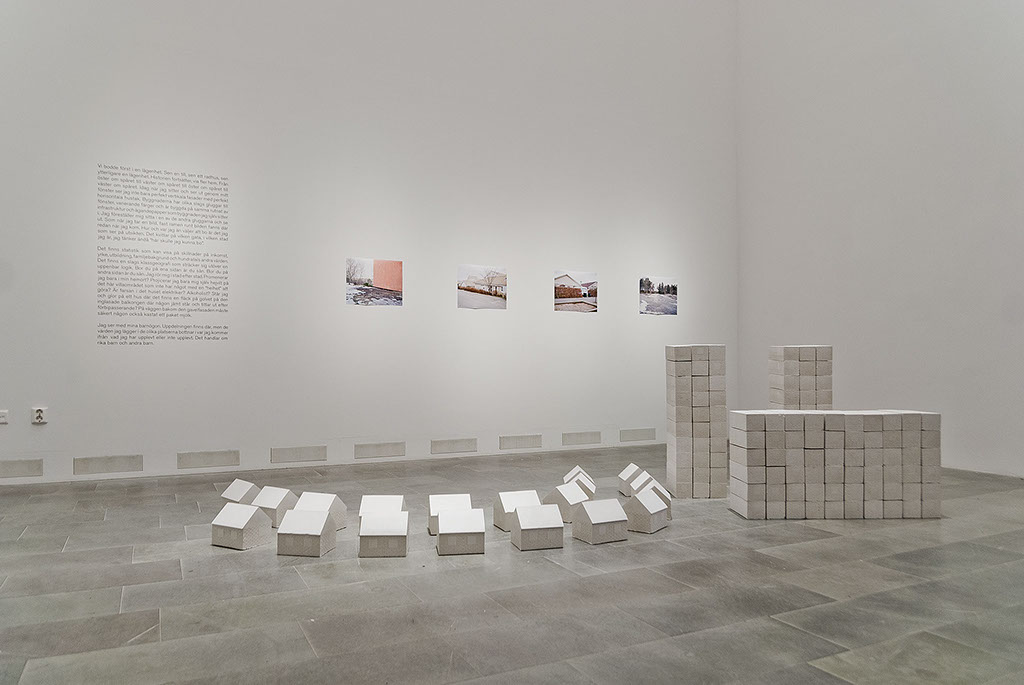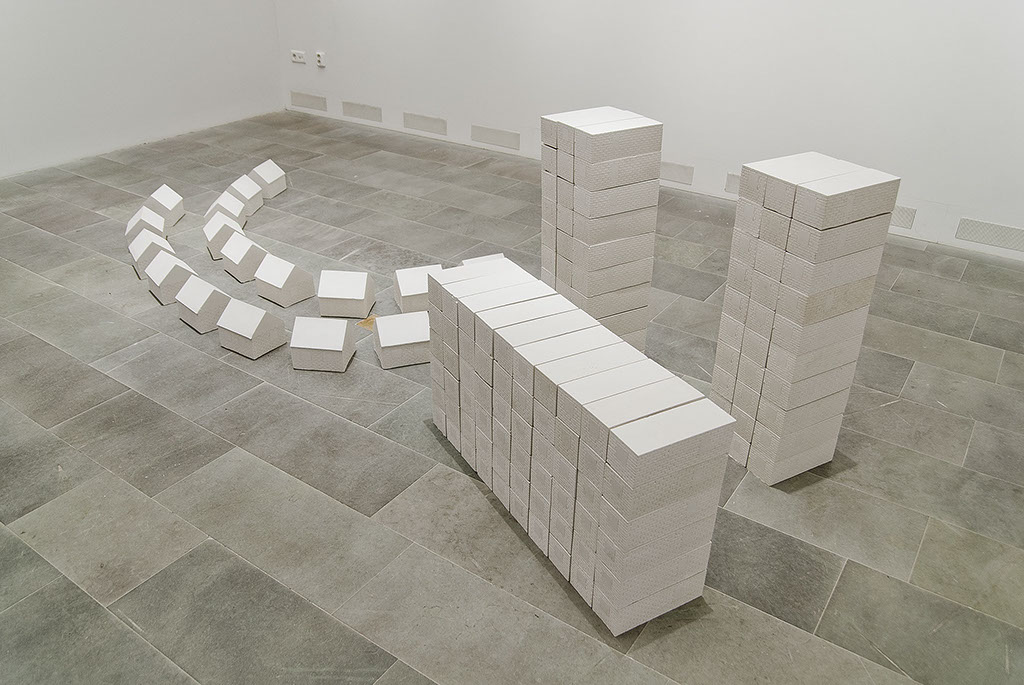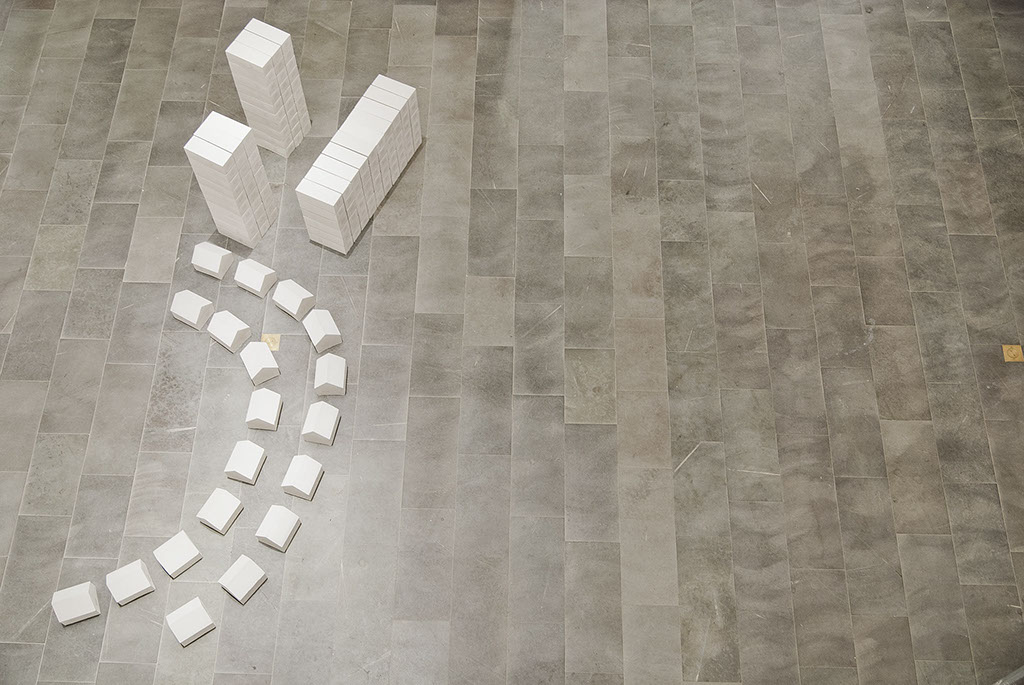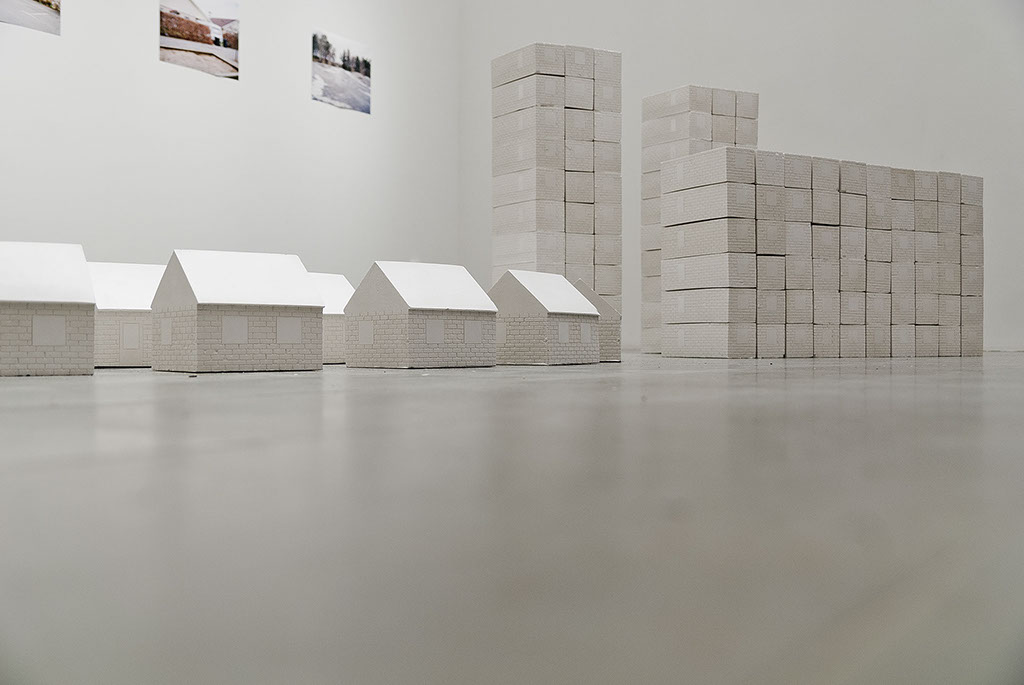 "HEM" ("HOME") (2012)
Gypsum sculptures resembling 27 detached villas and three large apartment blocks (two high rises and one low block), consisting of 124 blocks, total dimension 3 x 8 m. Series of colour medium format photographs, matte inkjet print, 35 x 28 cm. Exhibited at Sven-Harrys, Stockholm, 2013 and Knipsu, Bergen, 2011.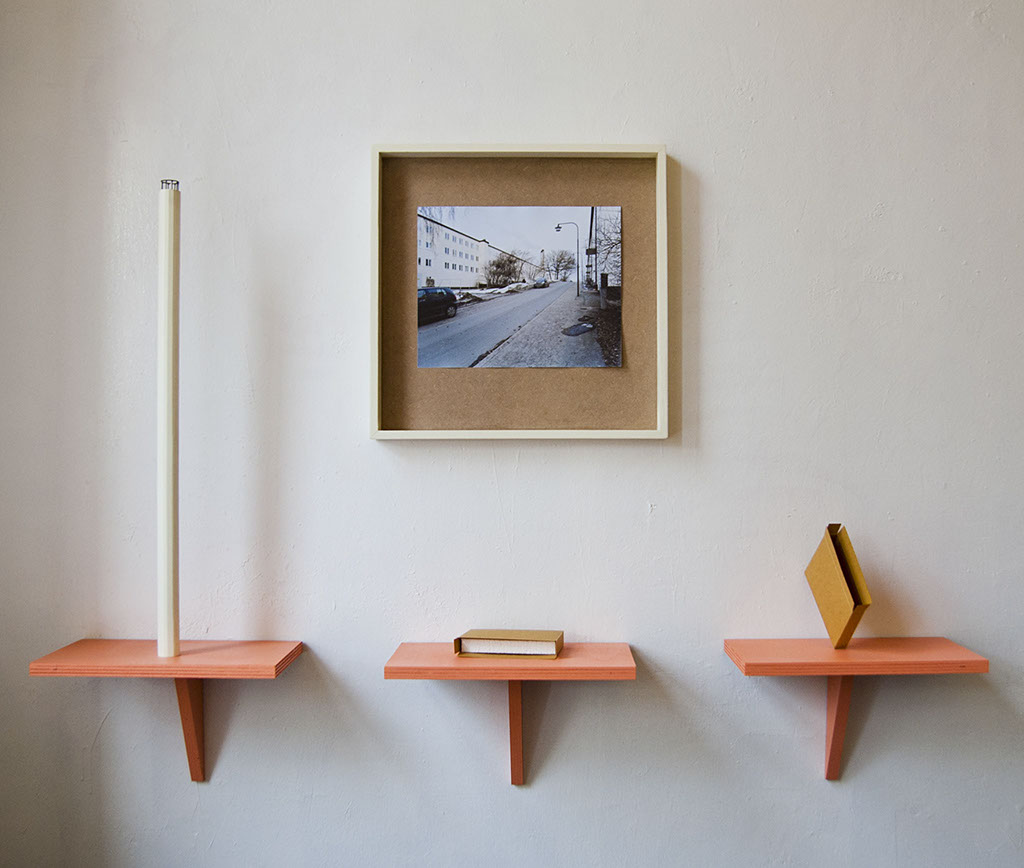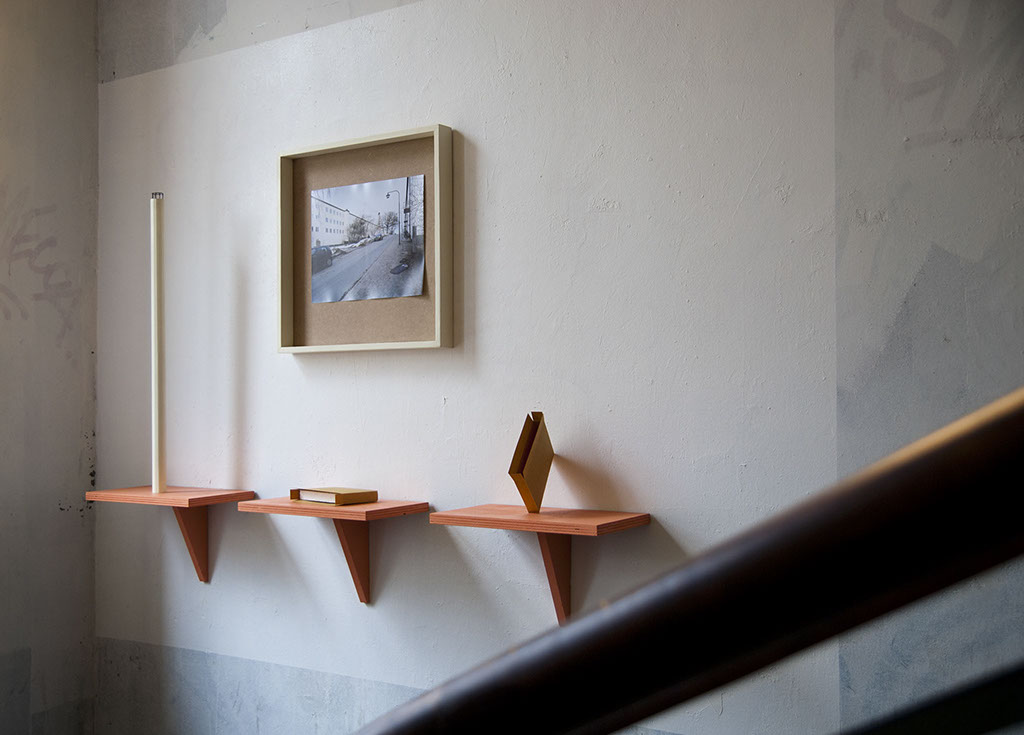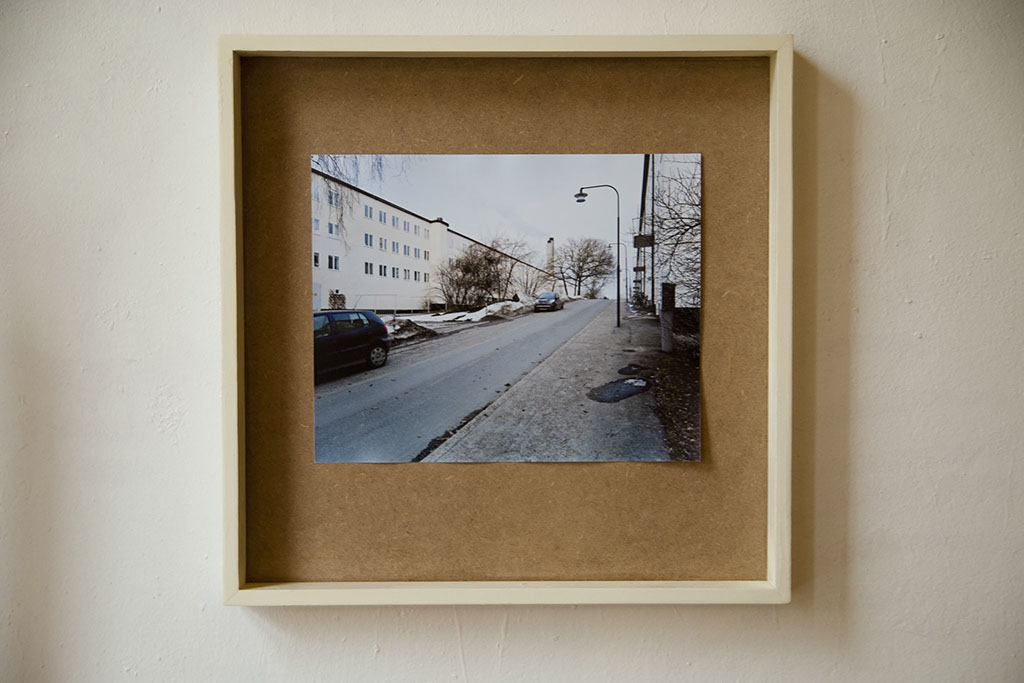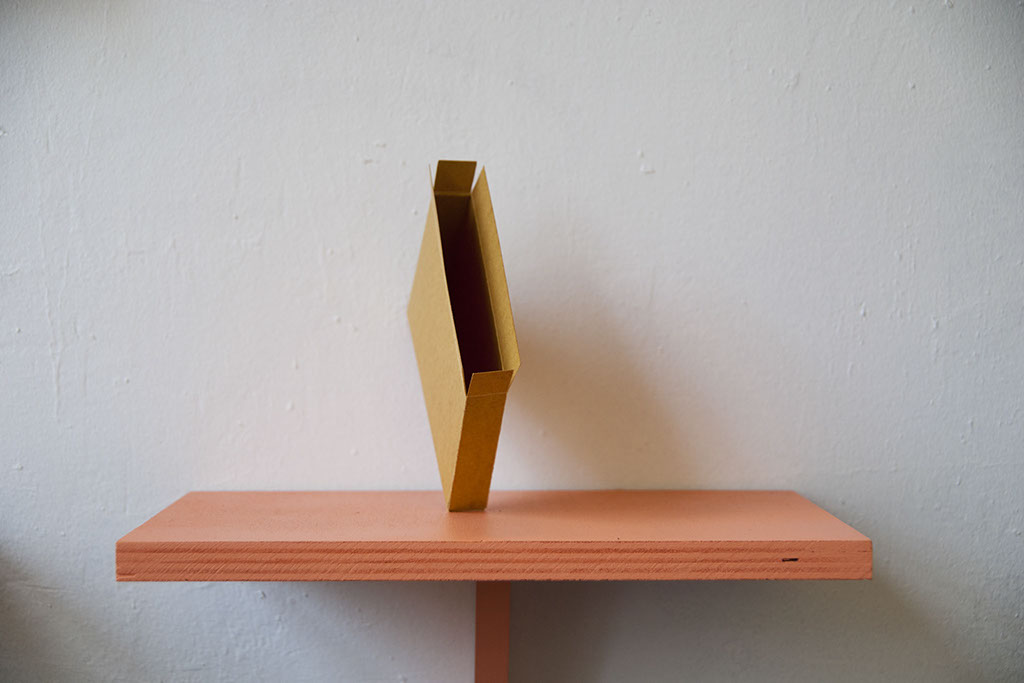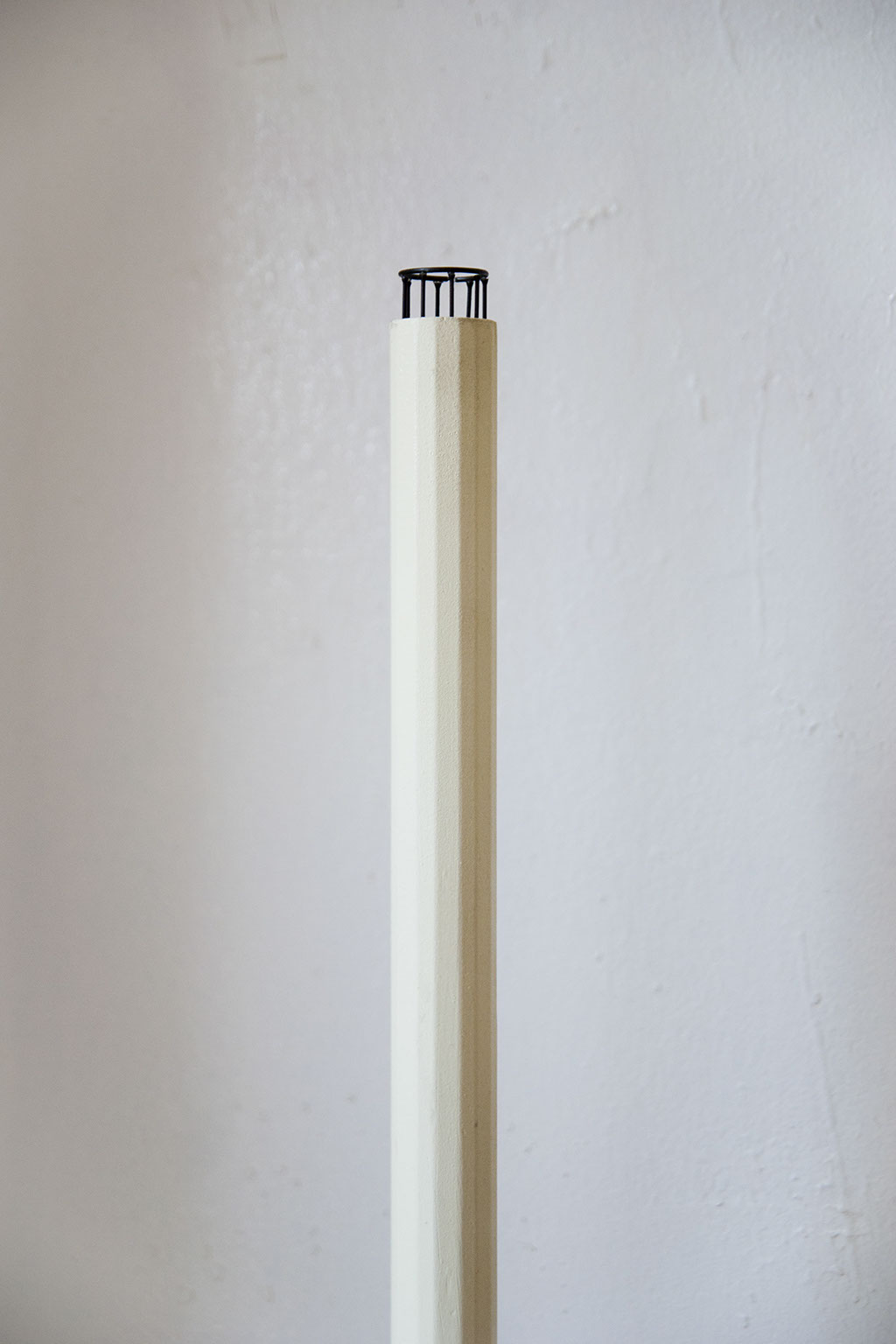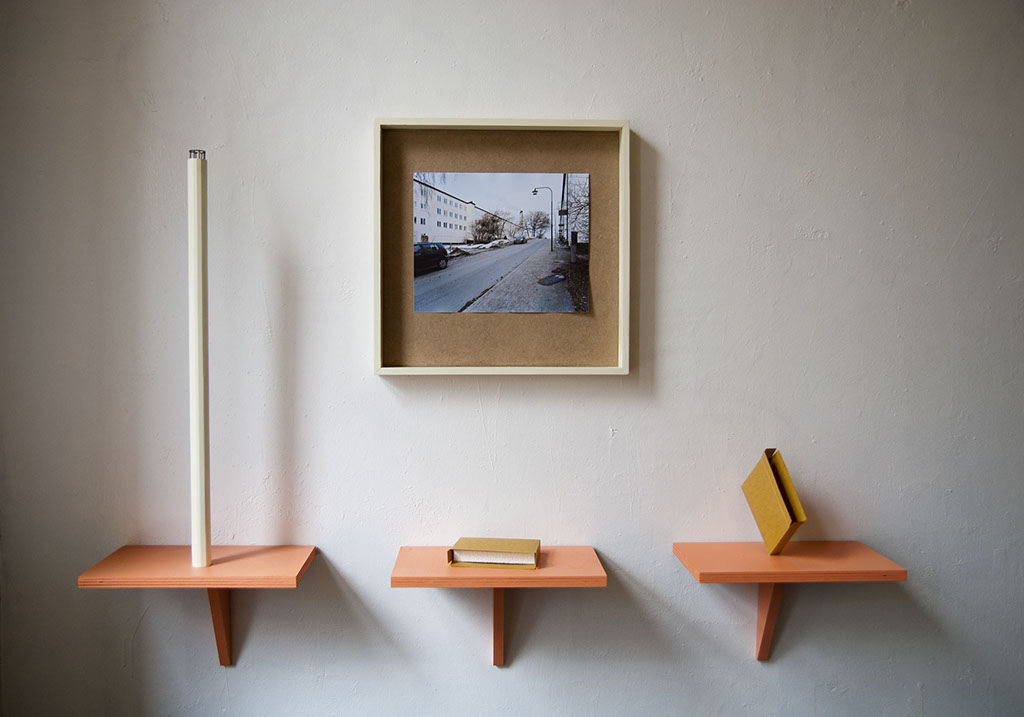 115 4X (2011)
Colour medium format photograph in white/mdf frame, 50 x 50 cm. Three wood shelves with model of a chimney, two miniature cardboard boxes with styrofoam and one express package for gold sales (not pictured). Total dimensions ca 2 x 1 m. Exhibited at Wizard Gallery, Oslo, 2011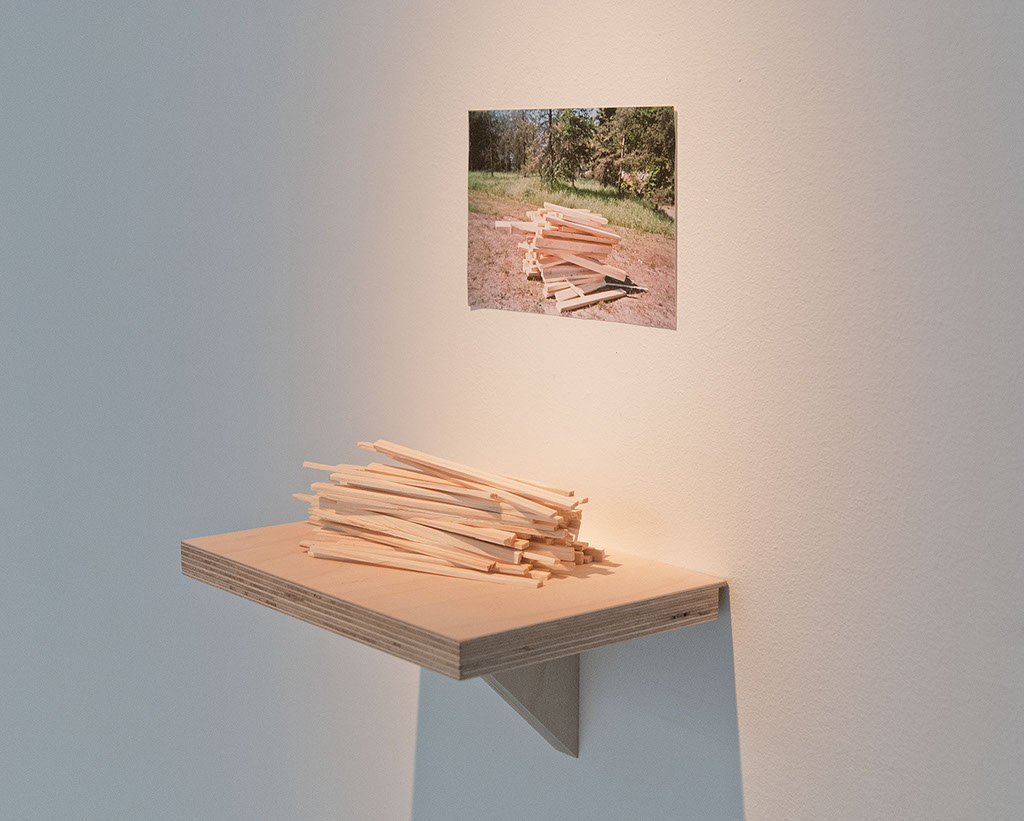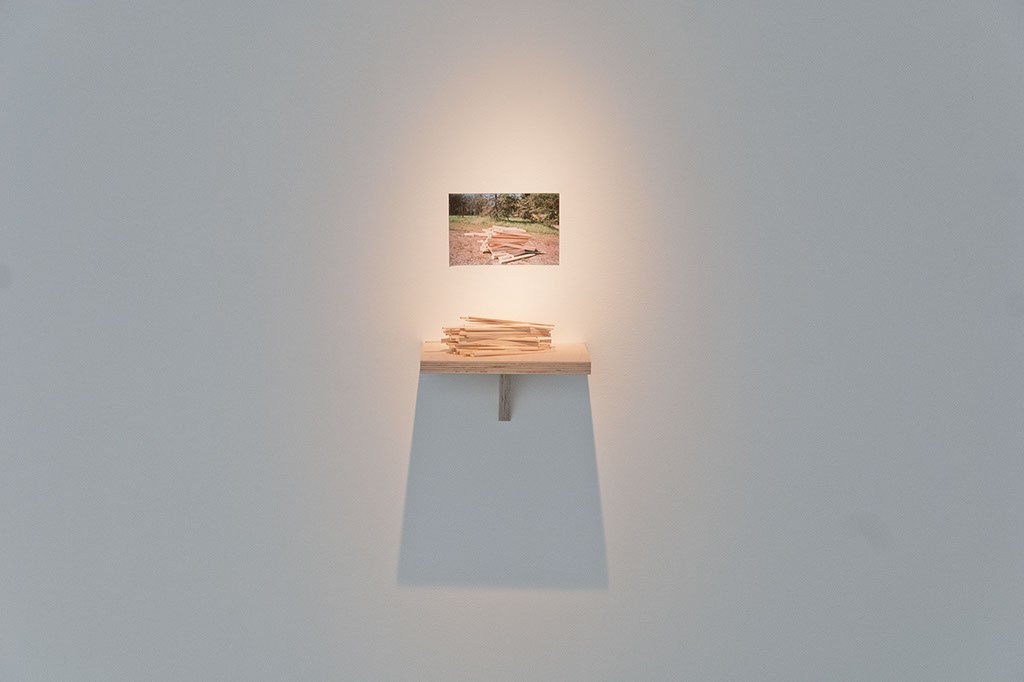 "Alla platser finns nu" (2012)
Small format colour photograph, 10 x 15 cm and wooden stick sculpture 10 x 15 x 15 cm. Exhibited at Sven-Harrys, Stockholm, 2012.
Remember to remember me (2010)
Series of screen capture videos from Google Maps/Street View.